Vietnamese Banh Mi–Style Steak with Pickled Vegetables
Recipe Courtesy of CleanEatingMag.com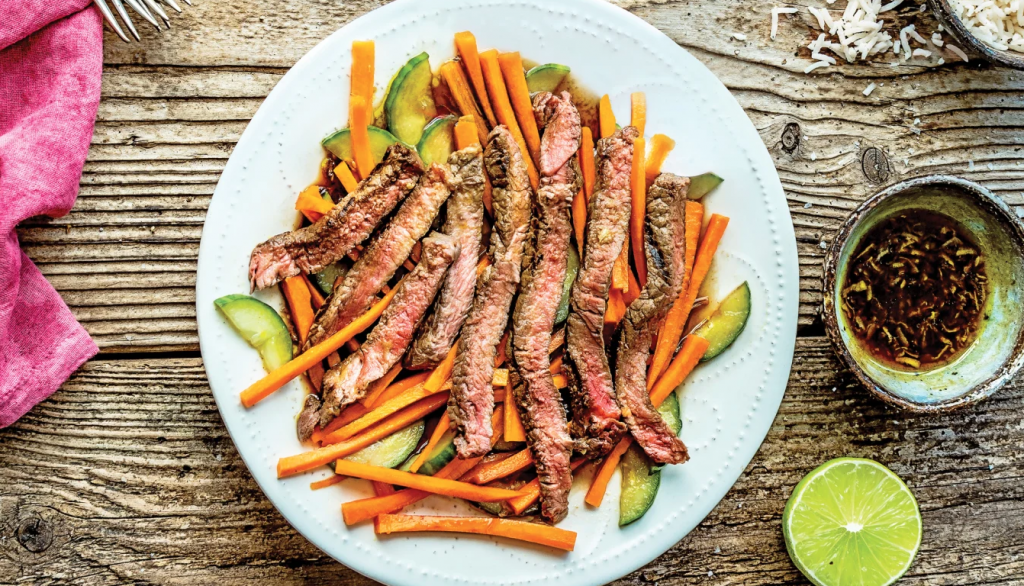 This marinated steak uses bold flavors such as ginger and fish sauce. Make the marinade in advance, but only add the steak the same day. The pickled carrots and cucumbers are a great make-ahead side. You can also serve this dish with brown rice.
Citrus Source
Limes are 8% citric acid and thus one of the best sources of the component in food form. Citric acid has been demonstrated to help prevent kidney stones from forming by raising the level of citrate in the urine and thus inhibiting the binding of calcium and other compounds to create stones.
See Also Prep Once, Grill All Week
55minDURATION
25minPREP TIME
4SERVINGS
Ingredients
Marinade
3 tbsp coconut aminos (TRY: Coconut Secret Coconut Aminos)
3 tbsp fresh lime juice
2 tbsp avocado oil
2 tbsp fish sauce
2 tsp raw honey
1 tsp peeled and minced fresh ginger
1 clove garlic, minced
¼ tsp sea salt
1 lb sirloin steak, about 1¼ to 1½ inches thick, trimmed
Pickles
6 tbsp fresh lime juice
2 tsp raw honey
2 tsp peeled and minced fresh ginger
¼ tsp sea salt
½ English cucumber, halved lengthwise, sliced (1¼ cups)
1 carrot, cut into matchsticks or ribbons (¾ cup)
Preparation
Prep Ahead
1. Make marinade: In a bowl, whisk all ingredients; cover and refrigerate (without steak).
2. Make pickles: Whisk together lime juice and honey. Whisk in ginger and salt. Add cucumber and carrot. Cover and refrigerate for at least 4 hours, or for up to 5 days (shake occasionally).
The Day Of
3.Pat steak dry and place in a bowl. Pour marinade over and turn to coat; let stand for 15 to 30 minutes. Preheat grill to high; grease grill. Add steak and cook to desired doneness, 4 to 6 minutes per side for medium rare. Meanwhile, pour marinade into a skillet; bring to a boil on medium heat. Reduce heat to a simmer and cook, stirring occasionally, until slightly reduced, about 3 minutes. Transfer steak to a cutting board, tent with foil; let rest for 5 minutes.
4. Slice steak against the grain. Divide among plates and spoon a small amount of sauce on top (you will have sauce left over). Serve with pickles.
Nutrition Information
Serving Size: ¼ of recipe
Calories: 271
Carbohydrate Content: 11 g
Cholesterol Content: 74 mg
Fat Content: 14 g
Fiber Content: 1 g
Protein Content: 26 g
Saturated Fat Content: 4 g
Sodium Content: 907 mg
Sugar Content: 7 g
Monounsaturated Fat Content: 7 g
Polyunsaturated Fat Content: 1 g