Que Onda Travels: Asheville, NC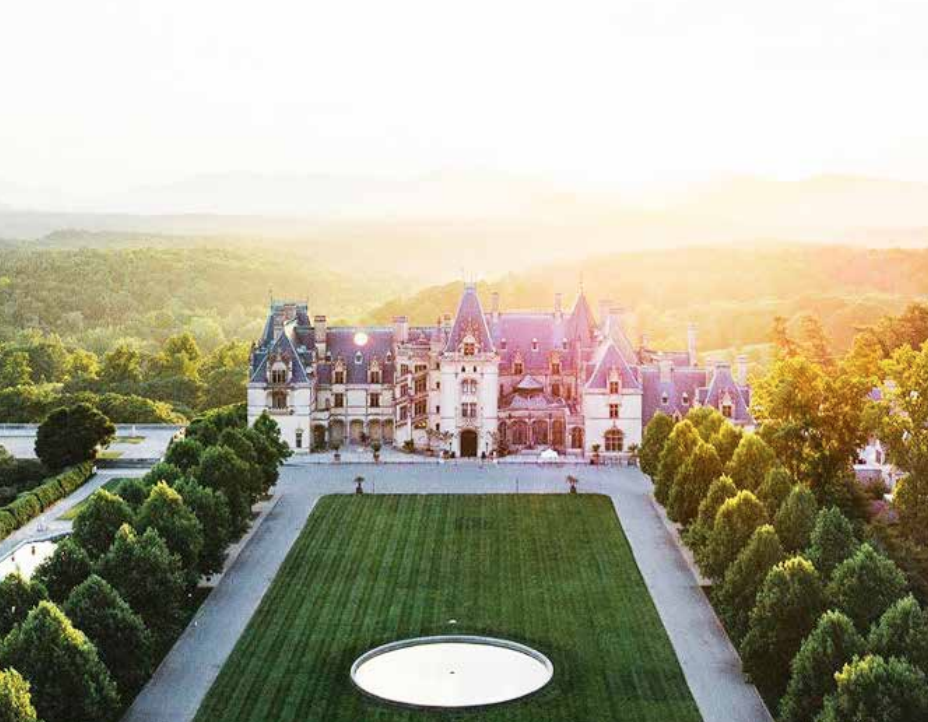 A true hidden gem, Asheville is tucked away in the Blue Ridge Mountains just waiting to be discovered. More and more people are won over by the city's natural splendor and thriving arts scene each year, but it's no tourist trap — and, considering how strong and distinct its identity is, probably never will be.
Which is a good thing: Asheville is the heart of Western North Carolina, and it's got room for more visitors.
WHEN TO GO
September – October
This being the South, Asheville is hot and humid in the summer. Avoid inclement weather by aiming for early autumn, when temperatures and
leaves begin to fall — the air will be especially crisp at 2,216 feet.
If you're a leaf-peeper hoping for bright foliage, October is the ideal time to go.
DISCOVERIES
More Like Built More, Am I Right?
Dating back to 1895, George Vanderbilt's 178,926 square-foot Gilded Age mansion is still the largest home in the country. Biltmore draws many a visitor to Asheville, not least because it was added to the National Register of Historic Places in 1966. There are gardens, a winery, and a farmyard full of animals to explore as you make your way around the estate. It's like stepping into the past for a luxurious day trip.
Hop Around a Brewery
There may be no such thing as a free lunch, but at least there's free beer — especially on the New Belgium Brewing Company tour. You can sample several different varietals during the 90-minute experience, which is open to all ages (though only the 21-and-older crowd can partake in the best part, of course). As for lunch, the on-site food trucks provide tasty fare even if they aren't free.
A Van Gogh Down by the River
Hundreds of artists call Asheville home, namely the River Arts District. The increasingly trendy neighborhood has become a hotbed of galleries and venues while you weren't looking, almost like a canvas in and of itself.
Working studios are open every day, meaning your preferred medium — whether it be pottery, painting, woodwork, or anything else — is sure to be on display.
Wild Wild West
Asheville and its surrounding environs are extremely beautiful. The area's flora and fauna are celebrated and protected at Western North Carolina Nature Center, which aims to keep Asheville wild by caring for more than 60 species: red pandas, grey foxes, black bears, bobcats, even an aquatic salamander known as the hellbender. If you're especially fond of one, you can symbolically adopt it and help take care of a creature that, for one reason or another, wouldn't be able to survive in the wild.
WHAT TO EAT
Corner Cuisine
It's fitting that one of Asheville's best restaurants is located in a house that dates back to the 1890s. The city itself is an elegant melange of the old and the new, which at the Corner Kitchen means the menu is known to change on a daily basis. One day's offerings tend to be as delicious as the next, with the likes of grilled Georgia peaches and molasses-glazed chicken making for a tasty night out. And though Chai Pani means "tea and water," you'll find much more than that at this Indian joint featuring chaat (street snacks) in addition to traditional fare.
STAY HERE
If You Lived Here, You'd Be Home by Now
Pink on the outside and rustic on the inside, Asheville's oldest bed and breakfast sits on three charming acres. Cedar Crest Inn has been making visitors feel at home for more than three decades, treating everyone who walks through the doors like a guest of honor. With options ranging from the Romeo and Juliet Room to the Serenity Suite, it also offers packages for those planning to visit Biltmore. Those who want to go camping but not really go camping can try Asheville Glamping, a more glamorous take on roughing it — whether you want to stay in a treehouse or a dome, it's the outdoors experience for lovers of the great indoors.