Ciudad 'Santuario' Pone Freno a ICE por "Manipular" a Sus Policías Para que Arresten Inmigrantes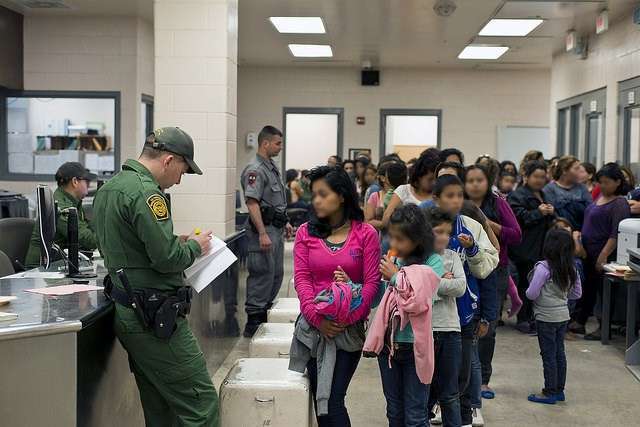 Un concejal de Chicago (Illinois) ha acusado al Servicio de Inmigración y Control de Aduanas (ICE, en inglés) de "manipular" a la policía local para que arreste a inmigrantes indocumentados pese a ser una ciudad santuario, según ha informado el sitio web de noticias Block Club Chicago.
Raymond Lopez ha indicado que los agentes de ICE llamaron al número de emergencias 911 para pedir refuerzos al Departamento de Policía de Chicago (CPD, en inglés) durante una operación que tuvo lugar el martes en la zona conocida como Back of the Yards.
Según una ordenanza, la policía y otros empleados de la ciudad tienen prohibido preguntarle a una persona sobre su estado migratorio o entregar inmigrantes indocumentados a agentes federales. "Esta fue una llamada de cebo para llevar al CPD allí", ha afirmado el concejal.
"Desafortunadamente, el CPD fue manipulado por ICE", ha añadido.
La alcaldesa de Chicago Lori Lightfoot ha dicho que la llamada le dio a entender a los despachadores del número de emergencia que los oficiales estaban en peligro y fue por eso que los oficiales de policía actuaron.
Siete residentes de la ciudad fueron arrestados por ICE la semana pasada.
"Estamos llegando al fondo de lo que sucedió", ha afirmado Lightfoot, que ha prometido ajustar los protocolos para que si hay una llamada que diga 'Seguridad Nacional', se hagan más preguntas antes de que alguien sea enviado".
Los agentes dejaron la escena una vez que quedó claro que los agentes de ICE no estaban en peligro y, por lo tanto, no participaron en los arrestos, según el portavoz policial Anthony Riccio.
López ha señalado que los agentes federales hicieron una llamada similar al 911 durante una redada en una pizzería la semana pasada.
"Queremos asegurarnos de que esto no sea parte de un patrón más amplio para traer al CPD a la fuerza", ha añadido el concejal.
Lightfoot le ordenó el martes a los funcionarios de la ciudad que endurezcan las reglas bajo las cuales la policía de Chicago puede ayudar a los agentes del Departamento de Seguridad Nacional a aplicar la ley federal de inmigración.
"No cooperamos con las acciones de inmigración de ICE", explicó.
La cadena Fox News asegura haber obtenido un memorándum interno de la policía en el que se ordena que un supervisor apruebe cualquier colaboración con ICE y, en caso de que se trate de una operación contra migrantes, los agentes abandonen la escena.
La alcaldesa participó el jueves en una protesta frente a la oficina de ICE en Chicago luego de que el nuevo director de la agencia en la región criticara a la ciudad por sus políticas de santuario para inmigrantes, ha informado la estación de televisión WGN 9.