Victim of murder-suicide in Alief area 'likely professional staff member' of HCSO, sheriff says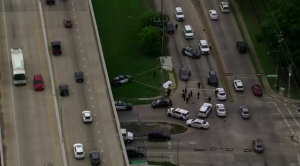 The victim of an apparent murder-suicide that happened in the Alief area Tuesday morning may have worked for the Harris County Sheriff's Office, according to the agency.
Sheriff Ed Gonzalez tweeted about the incident and asked for prayers, stating, "We've been notified that the victim is likely a professional staff member with our agency."
According to Houston police, the shooting occurred in the 12600 block of Alief Clodine Road around 8:05 a.m.
HPD patrol officers and Harris County Precinct 5 deputy constables responded to the scene. Upon arrival, a witness told them that a woman and man, who were inside the same vehicle, were stopped at a red light and having an argument.
The woman exited the vehicle and the man also got out, following her. A witness told police that when the woman went back to the car, the man shot the woman three times before turning the gun on himself.
Both were pronounced dead at the scene. Their identities are pending verification by the Harris County Institute of Forensic Sciences.
Source: click2houston