ParkHouston Recognized as Parking Organization of the Year by International Parking & Mobility Institute (IPMI)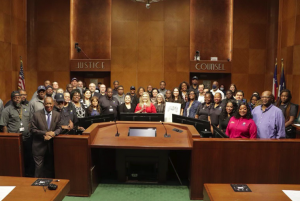 The City of Houston's on-street parking management division – ParkHouston – has been named the Parking Organization of the Year by the International Parking & Mobility Institute (IPMI). IPMI 's Professional Recognition Awards acknowledge professionals and organizations who operate, maintain and manage parking and mobility operations. The awards also celebrate those who are changing the perception of the industry as a career and profession. Award winners are nominated by their peers and selected by a committee of industry professionals.
ParkHouston was nominated for this year's award for its commitment to advancing innovative ideas and embracing technology. ParkHouston is a customer-focused agency, responding to more than 10,000 service requests with a 97% on-time response rate.  The department supports Houstonians with programs that promote public safety, quality of life, economic development, and sustainability, such as the development and enforcement of dedicated bike lanes throughout the city. Additionally, after substantive research, a Community Parking Program was implemented in the Midtown area.
"It's always a particular honor for us to recognize outstanding professionals and organizations in parking, mobility, and transportation," said IPMI CEO Shawn D. Conrad, CAE. "This year's winners exemplify a commitment to excellence, innovation, and creativity that persevered through a difficult and challenging time of pandemic recovery, and it's a privilege for us to honor them and be part of their professional circles. They make us all better."
"The City of Houston is grateful to have the work of ParkHouston recognized by IPMI. Daily, the entire team works diligently with a customer-centric focus – in the field and at their desks – to keep Houston safe, sustainable, and accessible to all who use our streets for parking" said Maria Irshad, CAPP, MPA Assistant Director for the Administration and Regulatory Affairs Department.
Today is declared ParkHouston Appreciation Day by the City of Houston. Mayor Sylvester Turner presented a proclamation to the entire ParkHouston team today at City Hall commemorating their international recognition for the service provided to Houstonians.
Additional details on this year's award winners can be found in a special feature in the July 2022 issue of Parking & Mobility Magazine. ParkHouston was honored in person at the 2022 IPMI Parking & Mobility Conference & Expo held July 24-27 in New Orleans, Louisiana.
Source: houstontx.gov