"A Crime of the State": Mexico's Attorney General Arrested in Case of 43 Missing Ayotzinapa Students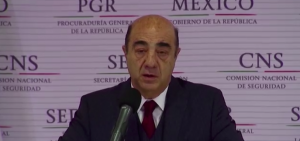 Mexican authorities arrested former Attorney General Jesús Murillo Karam on Friday for his failure to conduct a thorough investigation into the disappearance of 43 students from the Ayotzinapa Rural Teachers' College in 2014.
This came a day after a truth commission formed by current President Andrés Manuel López Obrador said the students' disappearance was a "crime of the state."
The students had been traveling in Iguala when their buses were intercepted by local police and federal military forces in September 2014; some of their remains were found later.
Dozens of soldiers and police officers are also expected to face charges. With a high-level official being held accountable in the case, there is hope "that there will be justice, and we will finally know what happened to these 43 students," says Andalusia Soloff, an independent journalist who has reported on the Ayotzinapa case since its inception and published a graphic novel about the disappeared students.
Source: democracynow