Texans fire coach/GM Bill O'Brien after 0-4 start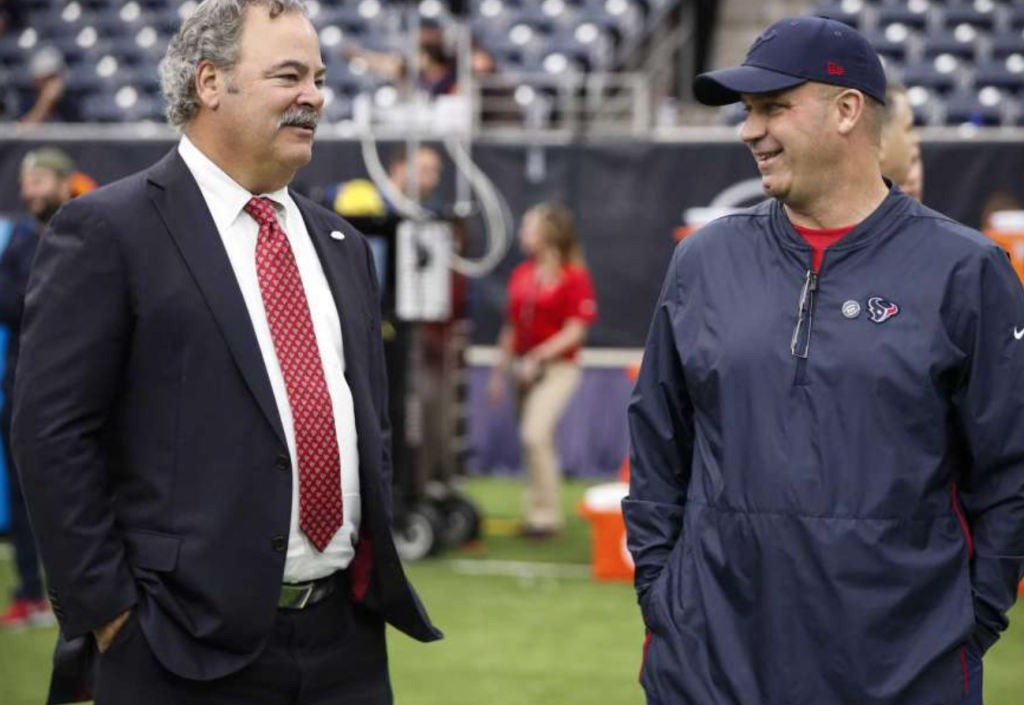 The Texans have fired coach and general manager Bill O'Brien on Monday, effective immediately.
Assistant Romeo Crennel will take over as the interim head coach. Crennel previously served as head coach of the Browns and Chiefs.
O'Brien had coached the Texans to a winless start through four games.
"Bill was very professional," owner Cal McNair said. "He thanked us for the opportunity and was sorry he couldn't get us over the hump.
"On behalf of my family and our entire organization, I want to sincerely thank Bill O'Brien and his family for their impact on our franchise," McNair added in a statement released by the team. "Bill's leadership moved our organization forward as he guided us to four AFC South division championships, 52 wins and multiple playoff appearances during his tenure. Bill proved himself as a coach and leader in this league. I spoke with him earlier today and told him we are moving in a different direction. Romeo Crennel will serve as our interim head coach for the remainder of the 2020 season. We have a talented team and I have no doubt our players and staff will rally to make Texans fans proud as we aim to win championships and do great things for the city of Houston."
Texans players were not shocked by O'Brien being fired after being informed during a meeting this afternoon, only by the timing of the termination, according to league sources not authorized to speak publicly.
O'Brien had lost the confidence of the organization and several players and staff members and was increasingly prone to arguments with staff, including in front of players on the practice field, per sources.
O'Brien's legendary temper flared up multiple times in recent years with a series of verbal confrontations throughout the building at Kirby Drive.
O'Brien was hired by the Texans since 2014 after coaching at Penn State. He had a 52-48 record as head coach and went 2-4 in the playoffs.
He won AFC South division titles each of the past two seasons, but the team's trade sending All-Pro receiver DeAndre Hopkins to Arizona backfired and now the team is in crisis.
O'Brien won power struggles over former Texans general managers Rick Smith and Brian Gaine. Each time, he emerged with more power and authority. Now, he's out of a job.
Texans executive vice president of football operations Jack Easterby is expected to be instrumental in guiding the organization through this transition. Easterby was hired last year after previous stints with the Patriots and Chiefs. He has operated in a versatile role with the Texans, which has included negotiating contract extensions for Pro Bowl quarterback Deshaun Watson (four years, $156 million), Pro Bowl offensive tackle Laremy Tunsil (three years, $66 million) and inside linebacker Zach Cunningham ( four years, $58 million), as well as helping the coaching staff, medical and analytics departments.
Among the logical candidates for an attractive head-coaching vacancy are Chiefs offensive coordinator Eric Bieniemy, Patriots offensive coordinator Josh McDaniels, Ravens offensive coordinator Greg Roman and Bills offensive coordinator Brian Daboll along with Ravens defensive coordinator Don "Wink" Martindale and Bills defensive coordinator Leslie Frazier.