Houston's Johnny Nash, who recorded 'I Can See Clearly Now,' dies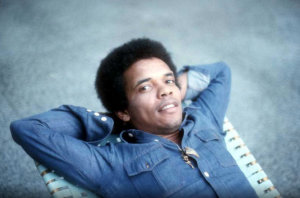 Johnny Nash possessed a honeyed voice that was swoon-inducing in its lower register; and he could eke from it a crystallized aching when he needed a touch of melancholy. He had a pop idol's looks and an ear for great international music that suggested places near and far.
Nash got his start as a teen idol in Houston and became an international superstar who played a formidable part in introducing the biggest reggae performer to the world outside of Jamaica. His career was a strange one with great global success and also a retreat into a quiet life back in his hometown.
Johnny Nash – the private man and the public star – died Tuesday at home in Houston, according to his son, John; he was 80.
A child of Third Ward, a graduate of Yates High School, a man who believed in his city and his state so much that he created a rodeo for Black cowboys in Houston, Nash screamed an affinity for his hometown even though he did so in whispered tones. After enjoying pop stardom, he spent years reflecting good things onto his city while deflecting attention from himself.
Legacy is a tricky thing because our culture's filing mechanisms are flawed. When yesterday's hit makers disappear, they're often forgotten or relegated to a "Where are they now?" status. Nash was, strictly by the numbers, a man with six Top 40 hits to his name, so not a one-hit-wonder by any measure.
But he was also an artist with one song that proved popular to the point of deep cultural renown. "I Can See Clearly Now" is the sort of song artists more famous and more lauded wish they could have written and recorded. It's the kind of song where even the artist disappears into its ubiquity, leaving the song as a pure artifact. It's a song people know, even when they don't know the singer or the story behind it.
Nash left behind albums of wonderful music and a formidable legacy. But even to those who don't know his name, he left behind one song that transcends time and place. The legendary rock critic Robert Christgau called it "the kind of song that can get you through a traffic jam."
"I Can See Clearly Now" is an anthem for troubled times, whether those times are 1972, when the song was released, or 2020, when it feels agelessly urgent.
The hit
Best to get to the song first, because it looms so large. Liam Omaonlai, singer in the Irish band Hothouse Flowers, said the song's tone "has the blues of generations of resistance and survival in it."
He's not wrong: For all the positivity that courses through "I Can See Clearly Now," it isn't a foolish attempt to squinch closed one's eyes and wish away the bad. Rather Nash's eyes were clear and open when he wrote a song of endurance that noted "all obstacles in my way." It's a song about clarity when times are foggy.
Ray Charles and Willie Nelson covered it. Admittedly, Ray Charles and Willie Nelson covered many songs in their distinguished careers, songs considered part of the Great American Songbook, classics from the first 50 years of American vocal music. Reggae stars like Jimmy Cliff and Toots Hibbert sang it. So did more pop-minded acts like Donnie Osmond and Sonny & Cher. It has appeared in films and TV shows and commercials so many times that it's branded in the larger cultural consciousness.
"I Can See Clearly Now" is a song of perfect construction, its little parts all setting a tone that pushes the positivity and underscores the challenges threaded throughout it. It reached No. 1 in 1972 but it took a slow path to the top of the charts that reflected Nash's slow path to stardom.