Fort Bend County Ranks as the #1 Per Capita Fully Vaccinated Urban County in State of Texas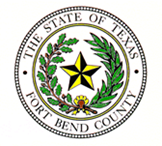 According to the Texas Department of State Health Services' data dashboard, Fort Bend County is the number one per capita fully vaccinated county jurisdiction in the State of Texas with 51.54% of residents fully vaccinated. Fort Bend County leads the State's 40.25% vaccination rate and all other large urban jurisdictions in the region and throughout the state of Texas.
Following Fort Bend County are Cameron County at 50.97%, Hidalgo County at 50.81%, El Paso County at 50.09%, and Collin County at 49.81%.
"Fort Bend County, our community, and our residents have been intentional and passionate about getting vaccinated. From the first case of COVID-19 in the State of Texas to the number one vaccinated county has taken the brave and determined efforts of our healthcare workers, community non-profits, county employees, faith leaders, and every resident," said County Judge KP George. "We have brought vaccination sites to every corner in our community and recently launched a mobile unit to take the vaccine directly to those who want and need it. I encourage everyone to sign up at www.fbchealth.org or even just walk up to a site to get your free and safe shot."
| | | | |
| --- | --- | --- | --- |
| County Name | Population | One Dose Percentage | Full Vaccinated Percentage |
| Fort Bend | 765,394 | 65 | 51.54 |
| Cameron | 421,666 | 67.64 | 50.97 |
| Hidalgo | 855,176 | 65.67 | 50.81 |
| El Paso | 836,062 | 66.89 | 50.09 |
| Collin | 973,977 | 60.76 | 49.81 |
| Travis | 1,226,805 | 62.1 | 48.32 |
| Williamson | 547,604 | 60.38 | 46.05 |
| Galveston | 332,885 | 51.75 | 44.96 |
| Denton | 833,822 | 54.44 | 43.95 |
| Brazoria | 360,677 | 50.49 | 41.43 |
| Bexar | 1,952,843 | 52.22 | 41.27 |
| Nueces | 361,540 | 48.52 | 39.74 |
| Dallas | 2,606,868 | 51.47 | 39.58 |
| Tarrant | 2,049,770 | 47.96 | 38.36 |
| Montgomery | 571,949 | 46.31 | 32.29 |
| Bell | 348,574 | 31.53 | 23.87 |
| Harris | 4,646,630 | 52.49 | 39.21 |