HOUSTON FIRST CELEBRATES ASIAN AMERICAN PACIFIC ISLANDER HERITAGE MONTH
Houston First Corporation (HFC) is excited to invite the public to join in the celebration of Asian American Pacific Islander (AAPI) Heritage Month with a collection of events, programs, stories, and art.
Learn something new— virtually or in person. Try a new dish, explore cutting-edge fashion, art, and dance, or get more details and information digitally. Everyone can experience and enjoy all of this year's cultural offerings free of charge. All HFC-sponsored events have been designed with the public's safety in mind and have been approved by the Mayor's Office of Special Events.
As the official destination management organization for the most diverse city in the nation, HFC is troubled by the growing violence against Asian Americans around the nation and condemns violence against anyone based on race, nationality, religion, or immigration status. HFC is committed to promoting understanding and tolerance by making sure our programming reflects the rich tapestry of cultures and people who call Houston home.
HFC AAPI Heritage Month Programs and Events
AAPI Amplified – Fashion, Market, Food @ Avenida Houston – Saturday, May 22, 5-8:30 pm on the Plaza at Avenida (between the GRB & Discovery Green) The event is free and open to the public.
Join HFC on the Avenida as we amplify the voices of the Asian American Pacific Islander community. HFC will celebrate and
support Houston's vibrant AAPI communities with an evening of traditional and contemporary music and dance performances, an Asian-inspired fashion show, and an outdoor market featuring local AAPI-owned businesses, artisans, and chefs.
Don't miss the one-of-a-kind fashion show starting at 7 p.m. on Avenida's Wharf runway, featuring Houston-based collections by Danny Nguyen Couture, Kimono Zulu, Mysterious by NPN and Poshak Fashion & Style.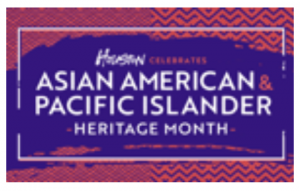 AAPI Cultural Content on HFC digital channels
Discover and learn more about Houston's AAPI culture and community digitally on HFC's websites and social channels.
VisitHouston.com is dedicating multiple pages to celebrate AAPI Heritage Month and encourage visitors to the site to also take advantage of an Events Calendar to help with planning for the month.
Check out these features on the site throughout the month of May:
Q&A with 3 Houston Asian American Artists
Kill Joy – Visual Artist (Philippines)

Sanjay Sharma – Metal Fabricator (India)

Danny Nguyen – Fashion Designer (Vietnam)
Neighborhood Spotlights featuring Chinatown
An Outsiders Guide to Chinatown
APAH Cultural Sites Roundup
Personality Quiz – Are you a spicy Thai pepper or a balanced Korean BBQ?  Find out in our newest, coolest quiz yet. Find your Asian cuisine personality now!
The line-up for AAPI Heritage Month on HoustonFirst.com includes interviews with local Asian American restaurant owners. Find out their thoughts on surviving the pandemic and violence against Asian Americans. Lana and Cuong Vuong own Hai Cang in Chinatown, and Minh Nguyen and Dr. Benjamin Choi, own Cafe TH & Celadon Coffee in EaDo (East Downtown Houston).
See more of HFC's year-long cultural heritage celebrations.