'Where are their parents?': Brothers in blue support death penalty sought for suspects charged in murder of Deputy Almendarez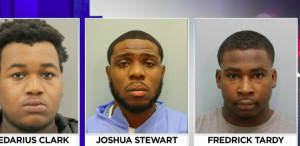 Prosecutors are asking for the death penalty in the fatal shooting of a veteran Harris County deputy who was gunned down after interrupting three suspects who were allegedly trying to steal his catalytic converter.
Joshua Stewart, 23; Fredarius Clark, 19; and Fredrick James Tardy, 17, were each charged with capital murder in the shooting death of Deputy Darren Almendarez.
On Monday, a procession was held transporting Almendarez's body from the Medical Examiner's Office to the Brookside Funeral Home in northeast Houston.
On the same day, Stewart appeared before a judge in probable cause court. Clark was also due in court, but waived his right to appear before a judge. No bond was given for either suspect.
Outside the Harris County courtroom, David Cuevas, president of the Harris County Deputy's Organization, was asked about the alarming number of young adults and teens having access to firearms used to commit crimes.
"Here's the bigger question, where are their parents? Where is the responsibility?" Cuevas fired back. "People that follow the law know the proper way to obtain guns. It's these criminals that have no home training. Do their parents even care about them? Because they are
out of control themselves."