The King's coronation brought in far fewer viewers than the Queen's funeral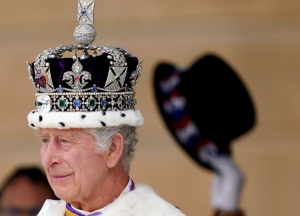 More than 20 million people in the United Kingdom tuned in to watch King Charles III's coronation on Saturday, but the ceremony attracted far fewer British viewers than his mother's funeral last year.
Average viewing figures for the two-hour service at Westminster Abbey — the main part of the Saturday ceremony during which the King was crowned — reached 18.8 million, according to data provided by the UK Broadcasters' Audience Research Board (Barb).
The rainy day kicked off with King Charles III and Queen Camilla traveling from Buckingham Palace to Westminster Abbey. Watched by cheering and waving crowds, the couple rode in the Diamond Jubilee State Coach drawn by six horses. The coach was built in 2012 to commemorate the 60th anniversary of the reign of Queen Elizabeth II.
According to Barb, which analyzed audience figures across 11 television channels and services, the number of viewers peaked at 20.4 million just after midday when the King received his crown.
The BBC took the biggest share by far, with viewership across its BBC One and Two channels peaking at around 15 million, according to numbers released by the UK public broadcaster.
But the overall peak viewing figure was 9 million fewer than the number recorded for Queen Elizabeth II's funeral, according to UK media reports, while the BBC audience was down about 5 million from the 20 million that tuned into BBC One for that service last September.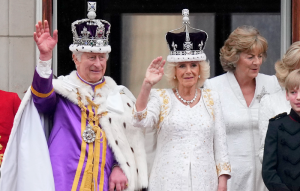 In 1953, more than 20 million people watched the late Queen being crowned, according to estimates based on surveys by the BBC at the time. Cameras were installed in Westminster Abbey for the first time to cover that coronation, which the BBC has described as the first mass television event in the UK.
Charles III's coronation also underperformed compared to the wedding of his eldest son in 2011. The wedding of Prince William and Catherine Middleton attracted a peak viewership of 20 million on the BBC, at the end of the ceremony in Westminster Abbey, according to the broadcaster.
Scores of foreign dignitaries, British officials, celebrities, and faith leaders gathered in the abbey for Saturday's coronation. Still, the 2,300-strong congregation was much smaller than in 1953 when temporary structures had to be erected to accommodate the more than 8,000 people who attended.
Following the service, 4,000 armed forces personnel, accompanied by 19 bands, took part in the largest UK military procession for 70 years, cheered on by thousands of spectators.
Some anti-monarchy demonstrators turned out to protest Saturday's coronation. London's Metropolitan police said it arrested a total of 64 people on Saturday for a variety of offenses, including "conspiracy to cause public nuisance" and "breach of the peace." Four of the people arrested have been charged with an offense.
Republic, Britain's largest anti-monarchy group, told CNN Saturday that police arrested organizers of the protest without providing any reason. The group said in a tweet Monday that the "protest was curtailed to protect the image of the king" and called the arrests "an absolute disgrace."
Source: edition.cnn.com