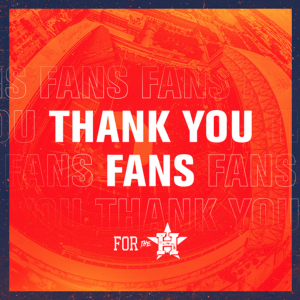 The Astros 2020 season came to an end Saturday night, one win shy of going to the World Series for the third time in four years. Despite several challenges and key injuries, the Astros rallied to become one of only three teams in American League history to advance to the ALCS in four consecutive seasons. Our seasoned skipper made MLB history when he became the first manager to lead five different teams to the postseason and the rest of the team followed suit, making history again by becoming only the second MLB team to force a Game 7 after falling behind in a series 0-3.
Our season also resulted in 11 MLB debuts and the emergence of several young players that will join the talented core of established All-Stars in 2021 and beyond. Despite the shortened season, the Astros Foundation continued their outstanding work, and with the help of our fans, we raised $1.0 million for relief efforts. A big thank you to fans who supported these efforts including the almost 7,000 fan cutouts that were purchased. Not only did the funds raised go to a good cause but they showcased your support of the team at home and throughout the community.
While we didn't get to celebrate this unique and unprecedented season with you in the ballpark, the 2020 season was played for you, our amazing fans. We want to thank you for tuning in, following, and supporting the team. It was a season to remember and we couldn't have done it without you.
Thank you Astros fans for making the 2020 season unforgettable! We can't wait to welcome you back to the ballpark.
Go Astros! #ForTheH