Texas Sen. John Cornyn wins fourth term over Democrat MJ Hegar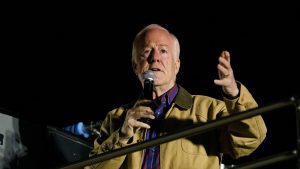 Texas Sen. John Cornyn, running slightly ahead of President Donald Trump in a state that still glows red, won a fourth term Tuesday over Democrat MJ Hegar.
At about 8:20 p.m., Hegar called Cornyn to concede, said Cornyn spokesman Travis Considine.
Cornyn grabbed another six years in Washington by reestablishing the GOP's dominance in suburbs where Joe Biden this year and Beto O'Rourke in 2018 made incursions.
Cornyn ran strongly in places such as Collin, Denton and Tarrant counties in North Texas.
Cornyn, 68, a former judge and state attorney general, closed his campaign with effective 30-second TV spots in which women spoke to camera about how he passed bills to curtail teen vaping, combat human trafficking and reduce a backlog of lab testing of rape kits.
"Whether I earned your vote or whether you were pulling for my opponent, I'm honored and committed to serving and representing all Texans," he said during a Zoom video conference with reporters late Tuesday.
Cornyn said that while he was proud to have played a role in confirming seven Supreme Court justices, he also was pleased to highlight his steady output of "some important but maybe rather small accomplishments."
Bills hailed by the women in his commercials made incremental progress toward fixing the criminal justice system and federal background checks of prospective gun buyers, Cornyn boasted. And they show he can work in bipartisan ways as "a problem solver," he said.
"I'm not necessarily the first one to run to the mics, or the TV cameras… you know, in the halls of Congress," he explained.
Speaking of a U.S. senator's job, Cornyn observed, "A lot of it's sort of singles and doubles. And I'm proud of those efforts and I think through our paid advertising we were able to get that message out."
Hegar, who'd run a strong congressional race in Central Texas two years ago before losing to longtime GOP Rep. John Carter, had a tough time getting untracked.
Earlier in the year, she spent precious time in a protracted struggle to put away several Democratic contenders for the party's Senate nomination. She then had money problems, making it hard in a state with 20 media markets to carve Cornyn down to size.
Hegar, a decorated Air Force rescue helicopter pilot, appeared to be closing the gap last month. She was buoyed by late contributions to her campaign and outside groups' help.
Still, Cornyn, quiet in demeanor, silver-maned and frequently described as a "senator from Central Casting," pushed ahead with a dual-track message that he was "thoughtful" while Hegar was "liberal" and a pawn of national Democratic leaders.
Late Tuesday, asked if he felt he had to separate himself from Trump by emphasizing a different political style, Cornyn cast the matter differently.
"While people are focused on maybe the different personalities, I'm proud to work with this president," he said. "When I disagree with him as you've heard, I prefer to do that in private. He's accessible. He listens. And I've been able to move the needle with him, and sometimes get him to see things my way."
Hegar, 44, said in a written statement late Tuesday that she was proud of her achievement in coming from obscurity — "having no statewide profile," as she put it — to giving Cornyn a stout challenge.
Hegar said she was able to "completely erase Senator Cornyn's 14 to 1 cash-on-hand advantage and turn the tables on Cornyn … making this race the toughest reelection Senator Cornyn had faced in 18-years."
She thanked supporters for helping her send a "message to a previously safe senator that he answers to us."
Cornyn approached the race with wariness about a shifting political climate in Texas. Two years ago, Democrat Beto O'Rourke lost to GOP Sen. Ted Cruz by only 2.6 percentage points.
Knowing that Washington-based Democrats would support Hegar, Cornyn opened last year with ads that built up another Democrat, Dallas state Sen. Royce West — even as Cornyn derided him as too liberal.
Even after Hegar survived her primary, Cornyn played his hand cautiously.
While Hegar sought three debates on statewide TV, Cornyn consented to only one—during Friday night high school football in October. It was an audience-limiting tactic borrowed from former Gov. Rick Perry's 2010 reelection playbook.
Although Hegar by most accounts held her own, Cornyn changed the subject back to West. He ran ads saying she'd disrespected West, a senior Black American in the Legislature, during their July runoff contest.
Cornyn also sought to thread the needle to keep support of the GOP base and swing voters.
As he had for 3 1/2 years, for many months of the campaign he offered no open defiance of Trump that might upset Trump's most ardent supporters.
At the same time, though, Cornyn sent signals to moderate voters disenchanted with the president that Texas' senior senator is more gentlemanly – an easy case to make.
Cornyn's other subtle message — that he's more bipartisan than Trump — was a harder sell, especially when Trump wanted more economic stimulus because of COVID-19. All summer and fall, Cornyn has stuck with Senate Majority Leader Mitch McConnell's demand for lawsuit immunity for employers to be included in a "slim" coronavirus relief package.
Hegar, who through the first half of the year was strapped for cash, faced challenges in pointing out Cornyn's double game.
Cornyn sent muted signals of independence.
"Obviously he doesn't have the power to do that," Cornyn said in late July, when Trump floated the idea of delaying the election because of the pandemic.
On Oct. 16, a couple of weeks after Trump announced that he and first lady Melania Trump had tested positive for coronavirus, followed by a slide in Trump's poll numbers, Cornyn distanced himself from at least the president's method for advancing a key initiative — an expanded wall along the U.S.-Mexico border.
Appearing before The Fort Worth Star-Telegram editorial board, Cornyn maintained that he opposed shifting money from the defense budget to build the wall, contradicting multiple earlier statements in which he offered no resistance.
Cornyn's financial advantage over Hegar, though, helped him stay on offense. He ridiculed her as "Hollywood Hegar," the handpicked candidate of Senate Minority Leader Chuck Schumer of New York.
"Too liberal for Texas" became Cornyn's mantra.