Houston Parks Board November 2020 Newsletter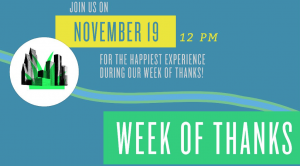 CELEBRATE WITH US!
Less than four months ago we were ready to invite you to be part of a glorious in-person celebration of the Bayou Greenways this fall, but now it seems better to ask you to join us for a different kind of celebration during the week of November 16 — a Week of Thanks. The week will culminate with a special moment on Thursday, November 19 that we are striving to make the happiest experience of your week.
NOVEMBER 16
Today, the adventure starts!
Keep your eyes peeled for a special delivery
(Donors at the "Planter" level and above)
and be on the lookout throughout the week
for inspirational new stories delivered straight to your inbox.
NOVEMBER 17
Your adventure continues…
Every story is a point of connection and we're celebrating
real stories about real moments in parks and trails across our city.
NOVEMBER 18
Keep on exploring, what inspires you?
Our big city continues to become more connected
and the opportunity to explore has become more accessible to all!
NOVEMBER 19
12PM
It's time to celebrate! A 100-year-old vision is becoming a reality!
Let's throw confetti, let's raise a toast!
We've waited for this moment, enjoy!
NOVEMBER 20
Let's go beyond.
There's still more greenspace to explore, more greenspace to imagine,
and more greenspace for play.
What can you imagine next?
50/50 Park Partners is pleased to announce the start of construction on Hartman Park, the first neighborhood park to receive improvements and long-term support as part of the 50/50 Park Partners initiative. The 50/50 Park Partners initiative was created by Mayor Sylvester Turner. He tasked the Greater Houston Partnership, Houston Parks Board, and Houston Parks and Recreation Department, to bring together a city-wide coalition of business partners to provide ideas, monetary contributions, in-kind support and volunteers to improve neighborhood parks.