Source: Rockets GM Daryl Morey to step down
Houston Rockets general manager Daryl Morey will be stepping down from his role, ESPN's Adrian Wojnarowski reports.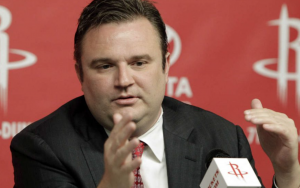 According to Wojnarowski, Morey, who has been with the Rockets for 13 seasons, will be replaced by the team's executive vice president of basketball operations, Rafael Stone. Morey will remain in an advisory role while the team completes its search for a new head coach.
Morey reportedly approached Rockets ownership after the team was eliminated from the 2020 playoffs and quietly worked out an exit agreement.
Houston has the NBA's longest consecutive playoff appearance streak with eight and owns the league's second-best regular-season record since Morey took over the GM job 13 years ago. Despite that success, the Rockets have not been able to get over the hump and reach the NBA Finals.
Morey was at the centre of controversy in 2019 when he tweeted his support for the Hong Kong protests. China responded by pulling the NBA off its television airwaves and also suspended sponsorship agreements. NBA commissioner Adam Silver and Rockets owner Tilman Fertitta supported Morey, despite China's requests for his dismissal.