Several machines down, multiple issues reported at Harris County polling location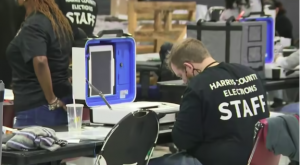 Multiple issues have been reported at polling locations in Harris County this Election Day, according to Harris County Elections.
KPRC 2 has learned that the Metropolitan Multi-Service Center, located at 1475 W. Gray St., has been experiencing "serious computer problems" this morning and only two machines were working at 7 a.m., according to a manager at the location.
The manager told KPRC 2 there were no previous issues reported during early voting.
When KPRC 2 photog Cesar Martinez left the location, a total of 10 out of 50 ballot machines were reportedly working, Martinez said.
Harris County Elections has acknowledged that issues have been reported from multiple polling locations across the county.
A spokesperson for Harris County Elections sent the following statement to KPRC 2 in regard to the issues:
"We are well aware of the issues and we have had all hands on deck to answer the support lines for our election workers to get things resolved as quickly as possible." 
KPRC will be reporting any issues that we see here, so continue to check back for more updates as they become available.
Are you having any issues while trying to cast a ballot? Give us a call during our Election Day phone bank in collaboration with the League of Women Voters Houston and Telemundo Houston at (713) 778-8920 (English) or (713) 778-8930 (Spanish).
Polls are open from 7 a.m. to 7 p.m. on Election Day. If you registered to vote by Oct. 11 and meet all other requirements, you have a right to cast a ballot as long as you're in line at a polling location by 7 p.m.
For more information on polling locations and wait times, go to www.harrisvotes.com.