All 10 Houston, Harris County bond proposals pass, authorizing nearly $1.7 billion in funding
The city and county bond packages will provide infrastructure and facilities upgrades for a range of government services, including transportation, public safety, and parks and recreation.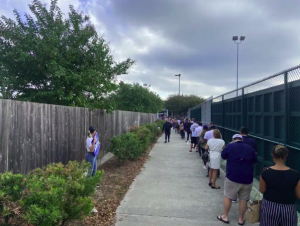 Voters in Houston and Harris County overwhelmingly supported bond packages totaling nearly $1.7 billion, which will provide for improvements to a range of government services – from roads, parks, and trails to public health and wellness to facilities upgrades for police officers, firefighters, and court personnel.
All three county bond proposals passed Tuesday by at least 120,000 votes apiece, according to unofficial election results released Wednesday morning by the Harris County Elections Administrator's Office. Voters countywide were asked to provide up to $1.2 billion in taxpayer funding for the three propositions, related to public safety, transportation and parks and trails.
Each of the seven bond proposals on the ballot for Houston voters – totaling $478 million – also passed by comfortable margins. City voters showed better than 2-to-1 support for six of those propositions, with the request for $29 million for improvements to existing city administration buildings passing by a margin of 53.7 percent to 46.3 percent.
Below is a breakdown of each of the approved bond proposals, according to information provided by the city and county.
Harris County
Proposition A: The issuance of $100 million in public safety bonds for land acquisition, facilities construction or improvements and technology upgrades for law enforcement, county courtrooms and data systems used for court management and crime prevention.
Proposition B: Up to $900 million in road bonds for construction and maintenance of transportation and stormwater drainage infrastructure, including roadways for vehicles as well as facilities for pedestrians, cyclists and mass transit users.
Proposition C: The issuance of $200 million in parks bonds for new construction and/or maintenance of park facilities and trails, including floodable parks and inclusive parks for those with disabilities.
City of Houston
Proposition A: Up to $277 million in public improvement bonds for facilities acquisition, construction and rehabilitation, along with equipment, for the city's police and fire departments.
Proposition B: The issuance of $60 million in bonds for the conservation, acquisition, construction and improvement of neighborhood parks and trails along with other recreational facilities.
Proposition C: Up to $47 million in public improvement bonds for building construction and renovation along with equipment for animal care purposes and BARC, the city's animal shelter.
Proposition D: The issuance of $30 million in bonds for the acquisition, construction and rehabilitation of city-owned buildings and facilities to support and provide public health and wellness services.
Proposition E: The issuance of $29 million in bonds for construction, rehabilitation and equipment for existing city administrative buildings and facilities.
Proposition F: Up to $26 million in bonds for the city's public library system and facilities, to be used on land acquisition, construction, renovations and equipment.
Proposition G: The issuance of $6 million in bonds for facilities and equipment improvements for the city's Solid Waste Management Department, which handles garbage and recycling pickup.