Recipe: Coconut Shrimp Stir Fry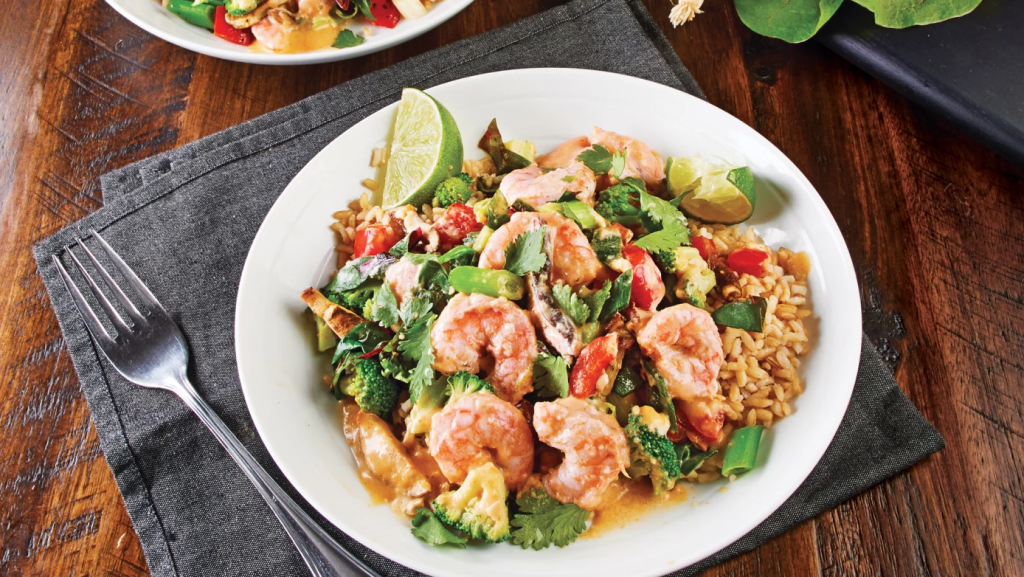 This stir-fry boasts energy-boosting B vitamins from broccoli, red bell pepper and Swiss chard. Get even more zeal from the iron-containing shiitake mushrooms and shrimp.
Ingredients
STIR-FRY
1 cup brown rice1 tbsp coconut oil2 cups sliced shiitake mushrooms1½ cups finely chopped broccoli1 cup finely chopped red bell pepper2 cups chopped Swiss chard1 cup sliced green onions1 cup roughly chopped fresh cilantro
MARINADE & SHRIMP
1 tsp lime zest + 6 tbsp fresh lime juice3 cloves garlic, minced1 tsp chile powder½ tsp each sea salt and ground black pepper1 lb large shrimp, peeled and deveined
SAUCE
1 cup BPA-free canned full-fat coconut milk3 tbsp fresh lime juice2 tbsp peeled and grated fresh ginger1 tbsp reduced-sodium tamari1 tbsp arrowroot2 tsp fish sauce1 clove garlic, minced½–1 tsp ground cayenne pepper
Preparation
1. Cook rice according to package directions.
2. Meanwhile, in a container or resealable bag, combine all marinade ingredients. Add shrimp and toss to coat. Seal and refrigerate for at least 15 minutes, or up to 1 hour.
3. Meanwhile, in a blender, blend all sauce ingredients until combined and smooth.
4. Prepare stir-fry: In a large skillet on medium, heat oil. Add mushrooms and broccoli and stir-fry until tender, 10 minutes. Drain shrimp and discard marinade. Add shrimp and bell pepper to skillet and stir-fry until shrimp is opaque, 3 to 5 minutes. Add chard, onions and sauce; stir-fry until chard is wilted, 3 to 5 minutes.
5. Divide rice among 4 plates and top with stir-fry and cilantro.