NATIONAL YOUTH COALITION CALLS ON BIDEN ADMINISTRATION TO TAKE EXECUTIVE ACTION TO REPRESENT AND EMPOWER YOUNG AMERICANS 
The Youth in Gov coalition represents over three million young people and is made up of 60+ leading youth-led and youth-driven organizations including Sunrise Movement, United We Dream, March for Our Lives, NextGen America, NAACP Youth and College, Planned Parenthood Generation Action, and more
Youth in Gov, a coalition comprised of a diverse array of 60+ organizations serving youth, is calling on the Biden-Harris administration to pass an Executive Order to represent and reflect young people across the Executive Branch. The coalition, which represents over three million young people, reflects membership from cross-issue organizations leading on issues from climate, education, gun violence prevention, racial justice, and more. The coalition has drafted an Executive Order On Empowering and Advancing Young Americans Through the Federal Government and is urging the Biden administration to take action within the first 100 days. The Executive Order calls for the creation of the Office of Young Americans within the Executive Office of the President, a federal agency working group, and an Advisory Council comprised of 12 diverse Young American-led organizations.
"After voting in record numbers to elect Joe Biden and Kamala Harris, young people deserve and expect a seat at the table. We urge the administration to not only consider young Americans in policymaking, but to ensure that leaders of the nation's largest, most diverse, and most progressive generation fill official government roles," said Ben Wessel Executive Director, NextGen America.
"Our youth-led, multi-racial movement delivered a clear political mandate for the Biden-Harris administration, and now we need them to deliver on the issues plaguing our working-class communities, from climate change to anti-immigrant policies, gun violence, and white supremacy. Young people have been at the forefront of these fights because we feel the impact these injustices have on our communities. The voices, stories, and ideas of youth organizers are key to ensure that we create solutions for communities across the country," said Luz Chavez, DACA recipient, and United We Dream's Maryland Youth Organizer.
"An Office of Young Americans would allow young people to bring holistic, equitable solutions to the problems that we face every day. We would actually have the opportunity to free this nation from the epidemic of gun violence by being in a position to create policies that reflect our reality and challenges. Incorporating youth in government, can make sure the administration not only passes critical gun-safety legislation, but takes more of an intersectional approach to preventing gun violence by investing in violence intervention at the community level, and prioritizing Black and brown voices at the center of this issue," said Isabella D'Alacio, Policy Associate, March For Our Lives.
"It's critical that we always include the passionate and visionary voices of our young leaders. Throughout history, young people have been on the frontlines of change, not only in our schools but neighborhoods, cities, states, and our country. Community engagement and influencing policy is our new norm, not just an exception, and the coalition of young people that helped secure this victory deserve a seat at the table," said Tylik McMillan, National Director of Youth and College, National Action Network.
"Even before the COVID pandemic, young people, particularly young people of color, were being excluded from economic opportunity. The economic and public health crisis has only exacerbated this inequity. We need young people, especially young Black, Indigenous, young people of color, to be a part of the administration to ensure our needs are centered and amplified. We can't wait," said Duy Pham, Center for Law and Social Policy (CLASP) and A New Deal for Youth.
"We urge the President to incorporate the voices of young people in his Administration and to fully support the impeccable leadership that they have shown, on so many issues facing our country. The creation of the Office of Young Americans within the Executive Office of the President will help ensure that the federal government understands the needs of the young Americans it is serving. The creation of this office will further cultivate the leadership of young people, who will be crucial in determining the path of this country and world," said Natalie Mebane, U.S. Policy Director, 350.org.
"The time is now for the Biden-Harris administration to take action to empower and elevate Young Americans. Young people have been directly impacted by the coronavirus pandemic, from economic recovery to education, and it's essential that they have a seat at the table in the decisions that influence and shape their lives. This Executive Order would ensure that young people across the nation are not just heard, but respected as the real stakeholders they are in this country's present reality and future and meaningfully represented for years to come," said Jazmin Kay, Executive Director, 18by Vote.
"The evidence is clear, young people won this election, and more specifically young people of color won this election. This administration should feel no less than compelled to use executive action to represent and empower young people across the federal government. Furthermore, they should feel an obligation to ensure that this happens within the first 100 days!" said Joshua Harris-Till, President, Young Democrats of America.
"The Biden-Harris Administration has the opportunity to be a bridge to the next generation of leaders. We believe that for policies to reflect the needs of young Americans, we must institutionalize their role in our federal government. This will leave a legacy that builds upon their signature accomplishments, including the American Rescue Plan. The time to start building for that is now," said Zak Malamed, Executive Director, The Next 50.
"At Student Voice, we've always been driven by the belief that those experiencing issues most directly should be partners in shaping solutions. In so many cases, young folks are on the frontlines of facing inequities and are already dreaming up transformative solutions to build a more just future. We're proud to be in solidarity with the call for #YouthInGov and are especially hopeful that the new Department of Education will enact Student Voice's student-crafted Roadmap to Authentically Engage Youth Voice. It's time to shift power towards young people who have been most marginalized by our systems and schools in order to achieve justice," said Taylor Kahn-Perry, Student Voice.
"We stand in solidarity with #YouthInGov, calling on the Biden Administration to pass an executive order that would empower youth by creating a space for representation and inclusion. Our Turn comprises students from underserved populations, therefore, urges the Biden Administration to not only create a space for Young Americans, but to create a space for young Americans who would not otherwise, have access, to be engaged, or heard in spaces such as the executive branch.  The demographics of a Youth Advisory Council or federal working group should comprise those who have been historically left behind, disenfranchised and marginalized," said Tiffany Patterson, Our Turn.
"Having young people actively and authentically engaged, centered, and incorporated into the policy-making process is long overdue. Young people have more than earned their seat at the table – and this administration must be responsive to their needs," said Jesse Barba, Young Invincibles.
"1 in 4 young people around the world are affected by conflict or violence, yet young people are left out of policy shaping and decision making even though they, particularly young BIPOC, are the most affected by violent and recidivist approaches to youth engagement. As the largest dedicated peacebuilding organization in the world and founding co-chairs of the Global and U.S. Coalition on Youth, Peace and Security, we know the importance of partnering with young people for preventing violence and shaping a more peaceful world. Through supporting young people's meaningful engagement across the U.S. government, the  Biden Administration can strengthen the relationship between young citizens and their government and counter the violence of exclusion, pinning the U.S. as a true global leader in partnering with young leaders," said Mena Ayazi, Search for Common Ground
"Youth are the heartbeat of this nation. Gen-Z and Millennials include the most knowledgeable set of individuals, across a wide variety of issues. If we want to address the climate crisis, a multi-faceted issue, then we must include their voices at the table and within this Administration," said Jasmine Saunders, Executive Director, Our Climate.
"The modern climate movement has been spearheaded by young people. Yet, the young voice has not been given adequate consideration regarding environmental decision-making in the United States government. Youth Climate Action Team Inc stands in solidarity with #YouthInGov, urging the Biden Administration to pass an Executive Order to represent and reflect young people across the Executive Branch. The youth-led movements of today have highlighted that young people have shown an unprecedented potential to influence policy across the nation. Thus, it becomes ever more imperative that we uplift young voices given that this generation will be impacted most by the modern dilemmas the U.S. faces. It was young people that decided this election and it must be young people that decide how the issues of today are addressed," said Samir Chowdhury, Founder and Executive Director, Youth Climate Action Team Inc.
"By working with youth activists on pivotal issues such as climate change and racial justice president Biden can improve his policy proposals while energizing the youth vote. The White House needs to prove that it's willing to go beyond just listening to guarantee meaningful youth representation across the federal government," said Sophia Kianni, Climate Cardinals, U.S Youth Advisor on Climate Change, United Nations.
"Most of us believe that for democracy to work for all of us, it must include us all. Young people, especially young people of color, turned out in record numbers to deliver our democracy and elect decision-makers who will hear our voices. While some politicians continue to use their voice to silence ours, young people are uniting, across race and place, to own our seat at the table and to say no decisions about us, without us. Together, we are building a national youth movement that will establish ladders to institutional power and governance," said Morgan Stahr, Co-Executive Director, Blue Future.
"We're working so that Generation Z becomes part of the political conversation and finally gets a seat at the table, which will one day be ours. By including young people in the administration, we are bringing in a whole new perspective on the world and allowing new voices to be heard. Having Gen Z in the Executive Branch will enable the students of today to become the leaders of tomorrow," said Santiago Mayer, Executive Director, Voters Of Tomorrow.
"At STEPS, we believe we need student voices in government because students live with the brunt impact of policy today and in our future. This voice should be representative of those directly impacted, not those in closest proximity to power. The power needs to be spread no matter your socioeconomic status," said Delina Afewerki, Students Toward Equitable Public Schools (STEPS).
"As the generation that is grappling with the consequences of decisions made before our time, it is up to us to not only be the leaders of tomorrow but of today. The role of the young people in a nearly century-long movement to achieve true gender equality is indispensable. Generation Ratify supports an intergenerational movement for real change," said Belan Yeshigeta, Executive Director, Generation Ratify.
"We have to give the leaders of tomorrow a seat at the table today. Creating an office for young Americans will create the infrastructure for all young Americans to be represented at the highest levels of government," said Manu Meel, BridgeUSA.
"Youth Across the country has shown up in record numbers to support the Biden Administration in the past election. We believe the youth should have a say on matters that impact us & our future. Every young person has the right to be at the forefront of change and advancements in our government. This is why we are joining 50+ to advocate in support of having youth voices in our government. Carroll County Kids for Equality is calling for Biden-Harris administration to bring young people to the table by building an Office of Young Americans," said Sumaiya Rahaman, Executive Director, Carroll County Kids for Equality.
Youth across the country are calling for the Biden-Harris administration to bring young people to the table by building an Office of Young Americans, appointing a Director of Youth Engagement, and empowering youth in official administration positions. By April 30, 2021 (President Biden's 100th day in office), the coalition is asking 500,000 people to sign on to our call for the Biden-Harris administration to represent young people across the Executive Branch by going to youthingov.org.
Coalition partners include 18 by Vote, Alliance for Youth Action, Blue Future, CLASP, College Democrats of America, Earth Guardians, Extinction Rebellion, Future Coalition, NAACP Youth and College, High School Democrats of America, IGNITE National, Inclusive America, March For Our Lives, Our Turn, National Action Network Youth and College Division, NextGen America, Pay Our Interns, Planned Parenthood Generation Action Fund, Rise, Student Debt Crisis, Student Voice, Sunrise Movement, Team ENOUGH, The Next 50, The Sadie Collective, Think of Us, United We Dream, Young Invincibles, Young Democrats of America, and more (list here).
Young Americans—specifically BIPOC youth—turned out in record-breaking numbers and voted overwhelmingly for President Joe Biden and Vice President Kamala Harris. The systemic lack of sustained, youth-specific roles and Young Americans across the federal government limits young people's agency. Young Americans are important stakeholders for every issue —and the need for formalized youth engagement work across agencies is pivotal to ensure the authentic engagement and advancement of the nation's youngest constituency.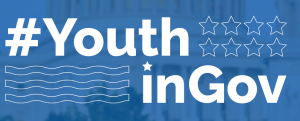 To learn more about Youth in Gov, please visit www.youthingov.org.