Harris County Attorney Christian D. Menefee Files Lawsuit Demanding TxDOT Properly Consider How Expanding I-45 Will Impact Local Communities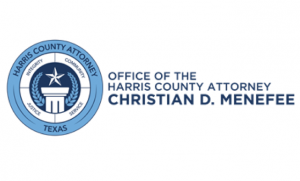 Today, the Harris County Attorney's Office (HCAO) filed a lawsuit against the Texas Department of Transportation (TxDOT) to halt the North Houston Highway Improvement Project  (I-45 expansion) until significant changes are made.  Harris County Attorney Christian D. Menefee says TxDOT failed to properly consider and address impacts to the environment and quality of life for nearby neighborhoods in designing the project. Harris County is bringing claims under the National Environmental Policy Act (NEPA), and is asking the court to send the project to TxDOT to properly consider these impacts and incorporate local community and stakeholder input.
"The I-45 expansion will displace families in more than 1,000 homes," County Attorney Menefee said. "It will also displace businesses, reduce parkland, and significantly impact the quality of life for folks living nearby. We are not taking this lightly, and Harris County residents deserve a fair process that addresses these issues. We are asking a court to require TxDOT to go back and do a better job of addressing these impacts. This may be a state-run project, but Harris County residents are the people who will be impacted—their concerns must be addressed."
The project would expand, remove, and reroute parts of I-45 near downtown Houston. Under NEPA, TxDOT must take certain steps to assess and consider the potential impact on the environment. After TxDOT released its initial environmental impact statement—a document in which it was required to properly evaluate environmental issues—in April 2017, Harris County and the City of Houston solicited community and stakeholder input. Based on that input, the County and City submitted design recommendations to TxDOT addressing a wide range of issues, including resident displacement, noise, environmental justice issues, air quality, impact on drainage and water quality, and more. But TxDOT's final environmental impact statement ignored the County's and City's recommendations and failed to properly address the impact on local communities. And, on February 4, 2021, TxDOT issued its Record of Decision, effectively saying it believed it had completed the environmental clearance process required by NEPA.
"Our region's complex transportation challenges require innovation and creative thinking," said County Judge Lina Hidalgo. "So far, TxDOT's vision for I-45 lacks both. Instead, this proposal relies on an antiquated approach that continues the counterproductive legacy of freeway expansions that unnecessarily harm families and businesses and ultimately fail to improve our quality of life. Throwing more concrete at this problem is not going to solve it. We are calling on TxDOT to innovate and lead, rather than repeating the same flawed approach that put us in this situation."
About the Harris County Attorney's Office
Christian D. Menefee serves as the Harris County Attorney, the County's chief civil lawyer. The Harris County Attorney's Office is committed to protecting and proactively advocating for the interests of Harris County residents and government through the civil justice system. This lawsuit filed under NEPA represents Menefee's commitment to defending the rights of residents, protecting the environment and supporting the will of the people through the elevation of local control. Menefee continues to be a voice for the people, standing up for vulnerable communities and using civil actions to ensure our rights are protected and expanded.