NATIONAL HAMBURGER DAY IS MAY 28
DQ RESTAURANTS IN TEXAS ARE CELEBRATING WITH BOGO HUNGR-BUSTER BURGERS!
Double Your Burger Fun with The Oh-So-Simple DQ Texas Mobile App!
 …and Don't Forget the Summer Blizzard Treat Menu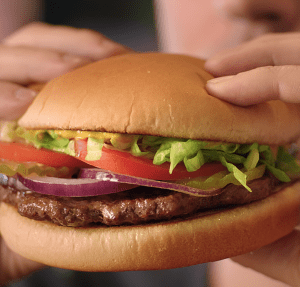 The hamburger is perhaps America's most popular food item. And at DQ® restaurants in Texas, hamburgers are iconic. So, for National Hamburger Day on Friday, May 28, it's only fitting that one icon celebrates the other with a BOGO deal on the mouth-watering Hungr-Buster® at DQ restaurants in Texas.
The juicy, quarter-pound grilled beef Hungr-Buster is a genuine icon in its own right –
topped with crisp lettuce, ripe tomatoes, purple onions, tangy pickles and bold yellow mustard, it's a classic interpretation of America's favorite meal. And the only thing better than one Hungr-Buster is TWO for the price of one!
 Scoring this deal is simple. Just download the DQ Texas mobile app, available on both the iPhone at the Apple App Store for Apple devices and Google Play Apps for Android devices. Fast and easy, the app is a great way to find the "The Best Treats & Eats in Texas," earn rewards, hear about deals – and of course, get the National Hamburger Day Hungr-Buster® BOGO bargain. It's deliciousness in the palm of your hand!
Speaking of deliciousness, nothing goes better with a Hungr-Buster than a Blizzard® Treat.  The Flavors for Instant Summer Blizzard Treat menu includes:
Brownie Batter Blizzard Treat: World-famous vanilla soft serve blended with rich brownie batter and super chocolatey brownie dough chunks.
Drumstick® with Peanuts Blizzard Treat: Genuine Drumstick® chocolatey-coated waffle pieces and chopped peanuts blended with soft serve.
 Girl Scout Thin Mints® Blizzard Treat: The chocolatey and minty flavor everyone loves blended with soft serve – and it's the June Blizzard of the Month.
 Frosted Animal Cookie Blizzard Treat: Animal cookies topped with pink confetti frosting and mixed with soft serve.
Cotton Candy Blizzard Treat: Cotton candy topping, all pretty in pink, mixed with candy sprinkles and soft serve.
Raspberry Fudge Bliss: Tart raspberries, gooey soft fudge pieces and choco chunks blended with soft serve.
DQ restaurants in Texas continue to offer their menu via drive-thru windows, pick-up and take-out, as well as delivery and online ordering, where available.