FORT BEND COUNTY JUDGE KP GEORGE HONORS MENTAL HEALTH LEADERS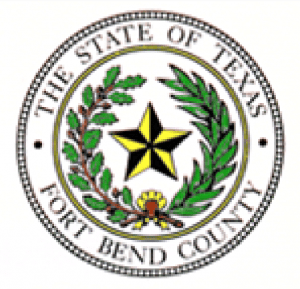 Today Fort Bend County Judge KP George, honored the work of Fort Bend County Director of the Behavioral Health Services Department, Dr. Connie Almeida, and Executive Vice-Chair and Professor of Psychiatry and Family and Community Medicine at Baylor College of Medicine, Dr. Asim Shaw.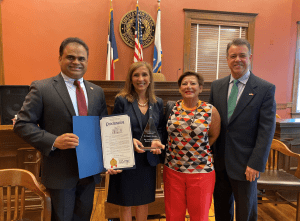 As National Mental Health Month comes to a close, Judge George spoke about the importance of mental health awareness, reducing the stigma around mental health struggles, and helping individuals who need help.
"My pledge is that I will continue to work with each and every one of you to ensure that our residents have access to mental health services, and we need your help in that," said Judge George. "Because sometimes we have an attitude if it something unpleasant, uncomfortable we will just put it on the side. I learned a long time ago, it is better if you recognize it and try to do something about it."
A Licensed Psychologist and Specialist in Psychology, Dr. Connie Almeida joined Fort Bend County in 2010 as the founding Director of the Behavioral Health Services Department. What began as a one-person department has grown into 20 full-time employees that consist of licensed psychologists and a psychological associate, a developmental psychologist, a licensed professional counselor, case managers, project/grant management staff, jail diversion coordinator as well as administrative support staff.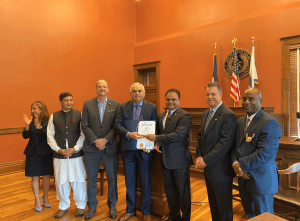 The department was created to assist in addressing the needs of those with mental illness who come into contact with the justice system and works collaboratively with the justice system, health and human services, behavioral health providers, county offices, schools, and the community.
Trained Psychiatrist, practicing physician, professor, and Chair of the Mental Health Task Force in Fort Bend County, Dr. Asim Shah was also honored for his tirelessly work to increase mental health awareness, services and supports to address the complex needs of persons with behavioral health disorders.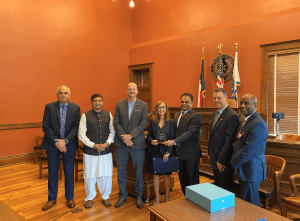 During Mental Health Awareness Month, Dr. Almeida and Dr. Shah have worked to spread the word about mental health through a host of events in Fort Bend County, including the Mental Health Awareness Walk on May 21 and hosting LIVE weekly mental behaviors discussions.
Judge George was joined by the Honorary Consul General of Portugal Jose M. Ivo, Honorary Consul General of Pakistan Abrar Hashmi, Fort Bend County Commissioner Ken DeMerchant, Fort Bend County Sheriff Eric Fagan, and a host of community and business leaders.