Mariachi 7 Leguas to Perform at the Houston Baptist University Dunham Theater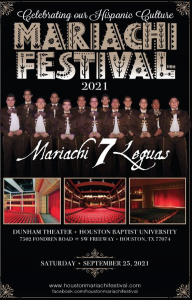 Internationally acclaimed Mariachi 7 Leguas will make its debut at the Houston Baptist University Dunham Theater on Saturday, September 25, 2021, at 7:00 pm in celebration of Hispanic Heritage Month.  This award-winning mariachi group is made up of graduates from the University of Texas – Rio Grande Valley Mariachi Program.  Mariachi 7 Leguas was founded in 2004 in McAllen, Texas by Emilio Santos.  Emilio recently performed with Vicente Fernandez.
On October 20, 2019, Mariachi 7 Leguas was recognized as one of the best mariachis in the world and was awarded the key to the city of Tecalitlán, Jalisco, Mexico. This city is known as the home of the world-famous Mariachi Vargas.  On November 28, 2019, Mariachi 7 Leguas performed with Maná.
Also performing will be the UTRGV Ballet Folklórico is a 50 member organization comprised of students who are pursuing degrees in a variety of disciplines.  The dance company was founded in 1970 by Dr. Amilda Thomas and it is currently under the direction of Miguel Angel Peña.  In 2006, the Ballet was one of 100 outstanding Texas artists chosen for inclusion on the Texas Commission on the Arts Touring Roster Program. The Ballet Folklórico has toured throughout the United States and Mexico and also traveled on European tours visiting countries such as France and Italy.
The UTRGV Ballet Folklórico is directed by Miguel Peña, who is a graduate of the University of Texas-Pan American where he earned his Bachelor's Degree and Master's Degree in Electrical Engineering.  Mr. Peña was the first recipient of a full scholarship awarded by the UT-Pan American Dance Department. He holds a Master's Degree in Fine Arts in Dance from the University of Wisconsin-Milwaukee. He has choreographed special performances throughout the nation for important artists such as Paquita la del Barrio, Vikki Carr, and Mariachi Vargas de Tecalitlán. The UTRGV Ballet Folklórico received national recognition at the National Conference of the American Dance College Association under his artistic direction in 2014, 2016, and 2018.
Mariachi Festival is a non-profit organization founded on August 9, 2019.  Our mission is to promote, enrich and cultivate our Hispanic heritage through educational opportunities in the arts.  This is the 2nd Annual Houston Mariachi Festival.  Our first benefited from the Talento Bilingue de Houston Summer Program.  This event will benefit HISD Stephen F. Austin High School, which will be starting a new mariachi program for students.
"Our short-term goal is to create first-class events that our community can be proud of." says Ben Mendez, the Executive Director of Mariachi Festival.  "We have invited the top mariachi and folklórico groups in the state to be part of this grand production in the hopes that the community will support our efforts so we can create even bigger events.  Eventually, we would like to have a three-day mariachi conference featuring top mariachi groups from all over the country."
For tickets, go to www.houstonmariachifestival.com.