Flaring Intensity in Texas Continues Downward Trend
Oil and gas producers in Texas are contributing to a positive long-term trend Texas as the rate of flaring in the state continues to fall.
As seen in the chart below, the most recent Railroad Commission production data shows that the percentage of natural gas flared compared to the natural gas produced from oil and gas wells in Texas dropped from a high of 2.29% in June 2019 to 0.65% in May 2021. During the same period, the volume of gas flared decreased by approximately 73%.
The average percentage of natural gas flared has remained below 2% statewide since October 2019, making Texas one of the lowest in flaring rates among all large producing states in the nation.
This means the vast majority of natural gas is being captured and used for beneficial purposes, which is a much-needed fuel for an electric generation; a basis for alternative fuels, LNG, CNG, and LPG; and used in a wide variety of products, such as plastics, synthetic fibers for advanced clothing, paints, fertilizers​, medicines, antifreeze, and more.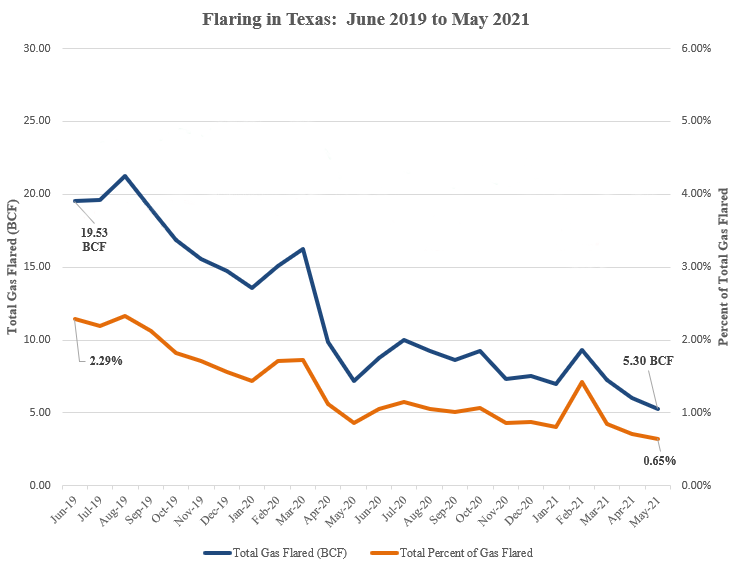 "The facts are clear. Texas is seeing significantly reduced flaring rates as a result of improved technologies, infrastructure and regulatory processes," said RRC Chairman Christi Craddick. "Through hard work and collaboration, Texans are better off with more natural gas available for beneficial use. I am grateful for the efforts of Railroad Commission staff and the commitment from operators to reduce flaring rates and look forward to continued progress."
"A clean environment and a thriving oil and gas industry are not mutually exclusive," said Commissioner Wayne Christian. "Technological innovation has allowed operators to reduce waste, without impacting the tremendous impact oil and gas production has on our economy, state budget and our goal of energy independence."
"The numbers released today are particularly notable given Texas' outsized contributions to our nation's energy needs," said Commissioner Jim Wright. "According to EIA in 2020, Texas produced one-fourth of the nation's natural gas, and annual production reached a high of more than 10 trillion cubic feet for the second year in a row. These trendlines reaffirm our commitment to utilizing our natural resources safely and efficiently."
Since spring 2020, RRC has been working to improve its processes to reduce flaring in the state. Actions that the agency's commissioners have taken, following periods of public input, include:
On Nov. 4, approved a revamped Form R-32, Application for Exception to Statewide Rule 32, which provides specific guidance on when an exception to flare would be permissible, under which circumstances, and for how long. The new procedures with the form generally tighten up periods for administrative exceptions to flare gas, provides incentives for operators to use technologies that reduce flaring, require operators to provide specific justification for their need for an exception to flare, and provides additional data points to facilitate compliance audits.
On Feb. 23, approved a revised Form PR, Monthly Production Report, which is being phased in and will be in full effect on Jan. 1. The revised form requires operators to report the amount of gas flared and the amount of gas vented as separate values on the monthly report instead of as a single value for an entire lease, putting RRC in better position to track compliance and correct potential violations.
In addition to the actions by commissioners, RRC launched an online system for requesting exceptions to Rule 32, resulting in better data collection and analysis.
Operators also have a right to request a hearing for requests for an exception to flare, which are ultimately decided upon by commissioners. For those cases, Hearings Division staff have more critically examined long-term hearing requests and have limited the outcomes of these requests.
Source: www.rrc.texas.gov
---