Dan Aykroyd and Jim Belushi to Kick Off Blues Brothers Con at Old Joliet Prison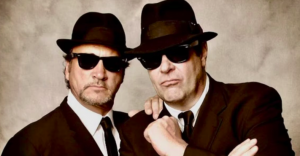 The late John Belushi and Dan Aykroyd formed The Blues Brothers as part of a soul and revivalist band as part of a musical sketch on Saturday Night Live in 1978. That stroke of genius would evolve into a hit 1980 movie of the same name and pull in several iconic artists like James Brown, Cab Calloway, Ray Charles, and Aretha Franklin. To this day, The Blue Brothers is still one of the few successful movies based on characters from SNL and the characters maintain a faithful fan following. Aside from that, the location of the film's opening scene is just as popular.
Formerly known as the Joliet Correctional Center, the Old Joliet Prison is where audiences see Jake (John Belushi) being escorted down a hallway full of inmates (real prisoners who were paid for being in the movie). Jake walks across the yard to collect his belongings which leads to one of the most iconic shots of the entire film – Elwood (Aykroyd) waiting across the street to pick up his brother. The Old Joliet Prison has long been famously used for filming locations including the tv series Prison Break and the movie Natural Born Killers.
Now a popular tourist destination, it will host the inaugural Blues Brothers event on August 19 (2-11 p.m.) and August 20 (10:30 a.m. – 11 p.m.). The cost of two-day general admission is $60 for adults and $20 for children. Aykroyd will be present at the event with John's brother, Jim Belushi.
Though the event is described as being an annual one, it is doubtful whether Dan Aykroyd or Jim Belushi will attend each year. However, there is a call for persons to portray Jake and Elwood on the Blue Brothers' website. The event will feature a 90-minute performance from Aykroyd and Belushi and the 16-acre complex will be filled with vendors selling food, drinks, artwork, and souvenirs. Also, the Soul Café and Bob's Country Bunker restaurants featured in the film will be recreated for the event. Even the Bluesmobile will be on display.
Opened in 1958, the Old Joliet Prison remained operational until 2002. In 2018, the prison was opened to the public, offering guests paid guided tours of the building. Whiles tours have been ongoing for a few years, Blue Brothers Con will likely be the most activity the site has seen in a long time.
Source: movieweb