CONGRESSWOMAN SHEILA JACKSON LEE INTRODUCES HOUSE RESOLUTION 26 ARTICLES OF IMPEACHMENT AGAINST PRESIDENT DONALD TRUMP
Congresswoman Sheila Jackson Lee, a senior member of the House Committees on Judiciary, Homeland Security, and the Budget introduces articles of impeachment against President Donald Trump.
"Our Constitution was written as a guide for governing our democracy and to protect it from authoritarian and tyrannical control.  It also serves as a tool to protect our nation from foreign and domestic enemies who intend to harm our Republic.
"On Wednesday, January 6, 2021, we saw domestic enemies incite violence and invade the people's house with intent to harm provoked by President Trump. This attack on our democracy led to the death of 6 people, including two U.S. Capitol Police Officers. Officer Brian D. Sicknick passed away Thursday, January 7, 2021, due to injuries sustained while on-duty. Saturday, January 9, 2021, Officer Howard Liebengood took his life after responding to the Capitol's domestic terror attack. The President has completely lost whatever moral authority he had and is unfit as Commander in Chief. His actions to incite violence against his own government and against the entire Congress warrants removal from office.  And if Administration officials refuse to invoke the 25th Amendment, I am moving forward with Articles of Impeachment to remove him from office for the following reasons:
Therefore, included in the submission by Congresswoman Jackson Lee was the second of two articles that includes the following:"
Refusing continuously to acknowledge to the American people that he would accept and be bound by the verdict rendered in the 2020 Presidential election, instead claiming that any outcome in which he was not declared the winner was fraudulent, rigged, and illegitimate.
Taking active measures to impede and undermine the ability of American citizens to convey their disapproval of his continuance in office by exercising their rights as voters, including misusing the United States Postal Service to prevent the 16 timely delivery of mail-in ballots.
Instituting frivolous lawsuits to overturn the results of the 2020 Presidential election, falsely alleging wide-spread voting fraud but producing no evidence in support of his spurious allegations.
Exhorting and inciting his supporters to believe falsely that victory in the 2020 Presidential election had been stolen from him and that constitutionally required Joint Meeting of Congress for the purpose of counting the votes of electors and announcement of the result by the President of the Senate was illegitimate and intended to complete the theft of his victory.
Failing to take action to protect and defend Federal officers and personnel, property, buildings, and institutions on January 6, 2021, at the U.S. Capitol that was besieged by supporters of Donald John Trump, resulting in extensive damage to the property of the United States and the deaths of at least four persons.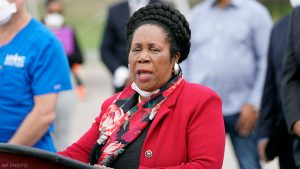 "Wednesday, January 6th will go down as a day in infamy, where six Americans died because of the actions of President Donald J Trump, partly in his words of provoking mobs to leave his rally and rushed to the Capitol and attack the sitting leadership of the United States House and Senate, The Vice President of the United States and federally elected Members of Congress. The violence was unspeakable; the destruction was widespread.  The disregard for this historic and continuous symbol of democracy was fueled by the words they had just heard from the President, 'you have to show strength and you have to be strong,' from Trump's lawyer, Rudy Giuliani, who urged the mob to engage in  'trial by combat,' and then from the words of his oldest son, Donald Trump Jr. 'The people who did nothing to stop the steal — this gathering should send a message to them.' And they violently attacked the U.S. Capitol and as video has evidenced, it was more devastating and more violent than we might have imagined. More people could have lost their lives; had it not been for the many brave men and women of law enforcement that personally and physically battled this mob and this group of domestic terrorists."
It is clear that under this resolution of impeachment, he should be impeached. And Congresswoman Jackson Lee will join her colleagues on the floor to work for an impeachment resolution to pass.