Clayton Perry set to return to San Antonio City Council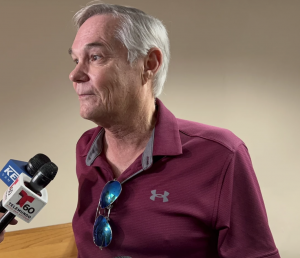 District 10 Councilman Clayton Perry planned to return to city council on Thursday.
This followed a leave of absence for an alleged hit-and-run incident in November and driving while intoxicated charge.
Police body camera video showed the North Side conservative councilman on the ground in his backyard, disheveled and disoriented.
His black Jeep was in front of his home with the motor running and the driver's side door open. The San Antonio Police Department was criticized in the wake of the incident for not arresting Perry.
He has been arrested and charged with driving while intoxicated. Media coverage has revealed he was served 14 drinks within four hours.
Michael Gallagher had been appointed to fill Perry's seat while he was away. TPR learned Perry started alerting his council colleagues last week that he planned to return to his seat.
The councilman did not immediately respond to TPR's request for comment.
Mayor Ron Nirenberg said in a statement on Wednesday that he spoke to Perry, and his stance remains that if the allegations are true, Perry should resign. But the city council can't force a removal without a conviction.
Source: tpr