Activistas Celebraron El Día De Acción Del Inmigrante Y Alzaron La Voz Para Reclamar Sus Derechos
Cientos de personas se congregaron ayer en Sacramento, California, para celebrar el Día de Acción del Inmigrante, una iniciativa que en los últimos 23 años ha reivindicado la aportación de los inmigrantes al estado dorado.
Desde diferentes puntos de California llegaron los activistas, que se reunieron frente al Capitolio estatal para participar en una de las movilizaciones más grandes de las comunidades migrantes en el estado.
La directora del Immigrant Policy Center de California (CIPC), Cyntia Buiza, subrayó en una rueda de prensa la importancia de unir las voces para pedir al gobernador y legisladores que trabajen para hacer que se respeten "los derechos y la dignidad de los migrantes sobre cualquier política".
En los últimos cinco años CIPC ha centrado sus esfuerzos en respaldar proyectos de ley que favorezcan a los inmigrantes, como la cobertura sanitaria a los menores indocumentados o la declaración del estado como una zona santuario.
La celebración se da justo cuando la Patrulla Fronteriza (CBP) está liberando a inmigrantes recién llegados en el sur del estado.Ver imagen en Twitter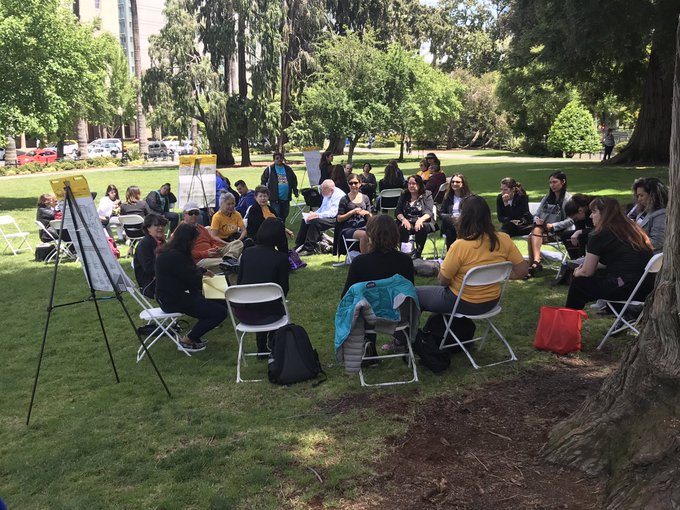 Las autoridades federales habían advertido de que ante la falta de espacios en la frontera texana familias de migrantes indocumentadas serían trasladadas a instalaciones de San Diego.
El fin de semana agentes de la CBP pusieron en libertad a decenas de inmigrantes en una estación de Greyhound en San Bernardino, California.
La organización Inland Coalition for Immigrant Justice señaló que los inmigrantes liberados eran más de un centenar, en su mayoría centroamericanos, que llegaron acompañados de sus familiares.
Las voces a favor de los derechos, tanto de los migrantes que ya viven en California como de los recién llegados, también se hicieron escuchar en el Capitolio.
"Cuando nos damos cuenta de lo que está sucediendo en nuestro contexto y cuando escuchamos las voces del otro, entendemos y si no respondemos, entonces somos cómplices", dijo en una entrevista con el Servicio Episcopal de Noticias el obispo de la iglesia episcopal de San Joaquin, David Rice.
Rice es uno de los promotores de la Peregrinación de la Esperanza, una iniciativa que ha reunido a líderes religiosos y activistas para llevar a cabo una caminata desde Fresno a Sacramento para llevar un mensaje a favor de los inmigrantes.Ver imagen en Twitter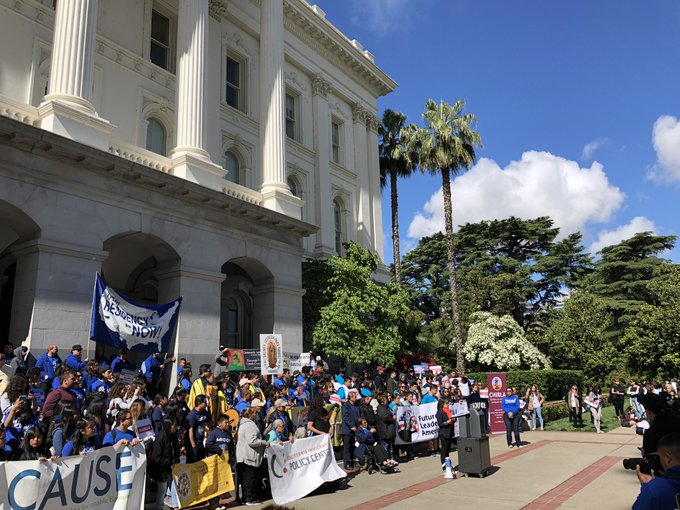 .@CALimmigrant's Cynthia Buiza at Immigrant Day of Action 2019: "It is not California for all if not all are included! None of us are truly free until all of us are free." #ImmDay19711:54 – 20 may. 2019Ver los otros Tweets de America's VoiceInformación y privacidad de Twitter Ads
Los participantes iniciaron el 4 de mayo la caminata, que recorrió 173 millas (278 kilómetros) y que culminó hoy en la gran concentración a favor de los migrantes.
Anna Carmichael, vocera de la Diócesis de la iglesia episcopal de San Joaquín, dijo a Efe que parte de la lucha también se concentra en sacar a la luz las carencias que viven los inmigrantes en áreas rurales, y la necesidad de acceso a la salud.
En los actos que se extendieron hasta la tarde también se solicitó a los legisladores recursos económicos para apoyar la crisis de refugiados y residentes permanentes que califican a naturalizarse.