Women empowering the next generation
Interview with Blanca Beltran, Community Advocate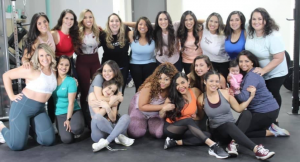 Dreaming about the future and making strides to accomplish those dreams are two different scenarios. Community advocate and influencer Blanca Beltran is a good example of living your life to the fullest despite any odds against you and living a life she describes as "unbothered."
Sitting down in a candid interview with Beltran you immediately feel empowered and encouraged from listening to the journey she took along her life's trajectory towards her goals. Born in south Texas and raised in Houston's East End, Beltran is a Milby High School graduate and garnered her degree in Journalism from the University of Houston (UH). "We've all created our own lanes in life," Beltran said. "What you think matters. If you think you can, you will. Stop listening to the outside noise and dive into what truly brings you joy and do more of that." And dive is what Beltran has done throughout her storied career.
From the beginning, it was evident Beltran was on a mission to create a bright future without any road map except that her father wanted her to get married and did not understand why she worked so hard for anything else. Being the first in her family to get a degree from UH, Beltran knew she was destined for more. "I never was mad at [my father] nor my mom – that was what they knew, and it was up to me to break the generational cycle."
She worked at ABC13 for 18 years. She began as a news writer and then transitioned into a producer for the Debra Duncan show, eventually forming part of the digital department. Beltran admits leaving ABC13 was tough, but she knew she was ready to walk into the next chapter of her life. As a well-known creative and influencer of the Houston community, Beltran transitioned as a media as a correspondent for HTV Houston Television.
Today, Beltran is a host for Champions Club Radio and an Executive Producer/host for Barrio Kids Network. She is also the Media Chair for the non-profit Aeolian Manor Foundation and the PR and Marketing Chair of the Alley Theatre/El Zocalo Advisory Committee. She also works a full-time corporate job by day and enjoys sharing her lifelong passion for good health as a fitness instructor.
"I am in my 4th career, and my biggest message is you can reinvent yourself at any age," Beltran said. "The major component is to surround yourself with like-minded people to garner your goals. Age is just a number, said the 52-year-old, who often gets mistaken for looking a lot younger. "Your strongest muscle and worst enemy is your mind – train it well!"
Beltran credits many mentors for guiding her along the way, like her sister. "My sister was always such a rock for me."  Hector De Leon, a life-long friend, encouraged her to stay in school and get her UH degree. Baldemar Rodriguez, Alley Theatre, Manager of Community Partnerships, is someone Beltran says- "fuels the creative part" in her.
She also is grateful to Elva Trevino, Owner of Champions Club, for including her as part of a photoshoot when she turned 50. An opportunity Beltran said was life-changing being surrounded by other empowering women leaders. They both have united and will host a self-development and leadership conference on May 1st to help continue make an impact in our community globally.
At night and most weekends, Beltran is actively involved in giving back to her community through her volunteer work and philanthropic efforts. During the pandemic in 2021, she was instrumental in creating a Champions Club Podcast alongside Trevino to give a platform for others to share their stories during these unprecedented times.
A timeline of events Beltran has been involved with from 2018 to 2022 includes:
2018 G7 Awards co-emcee
2019 Go Tejano Fashion Show co-emcee
2019 Asian American Real Estate Association Gala co-emcee
2021 Go Tejano Fashion Show co-emcee
2021 Fitness Instructor for AARP 6-week online series
2021 Mariachi Festival co-emcee
2022 Mariachi Festival co-emcee
Beltran's greatest role, you may say, is that of being a mom to her two boys. "My boys are my everything," Beltran said. "I want to show them not to be afraid of overcoming fear by conquering new things that are very much out of my comfort zone."
Beltran shared that she would like to leave behind a legacy of giving back. Even at the tender age of nine, Beltran said she remembers telling her father she wanted to help others. One look at her Instagram tells the story of this young girl who grew into a creative force inspiring others to live life to the fullest. Encouraging others with her message to "wake up daily with gratitude and be a beacon of hope for those who are still trying to navigate their journey."
BYLINE: Sonia Ramirez