Winners and losers from Patriots' devastating loss to Texans in Week 11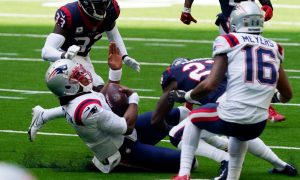 The New England Patriots seemed to be past the mental blockage that had plagued their season. Prior to Week 9, the Patriots couldn't win close games. Then in Weeks 9 and 10, New England briefly established its offensive identity while improving the defense just enough to win games.
And then in Week 11, it all came undone. The lowly Houston Texans beat the Patriots, 27-20, at NRG Stadium on Sunday. Cam Newton and the Patriots couldn't execute a game-winning drive in the final moments. Though the Patriots' briefly flirted with fighting for playoff contention, they are essentially out of the mix in the AFC.
New England had a shot to tie the game, with Newton leading a drive into the Texans' half of the field with a minute left to play. But he faced pressure on a fourth down and couldn't get a throw off. The turnover on downs essentially ended the game. Here are the winners and losers from the matchup.
He couldn't have played this deep ball (in the video below) from Newton much better. Byrd was streaking downfield and shielded the defensive back from making a play. For the first time all season, Byrd played the field-stretching role that New England seemingly signed him to play.
It was his first touchdown of the season — and Newton's first touchdown to a Patriots receiver. Byrd finished with six catches for 132 yards and the touchdown. He added 11 yards on one carry.
It probably helped Byrd that Jakobi Meyers had a few good games, which meant that Byrd didn't get quite so much defensive attention. But this was also simply a matter of Byrd doing a good job getting open and making really good contested catches. This was the best football he's played in 2020 — and maybe in his entire career.