What is the coronavirus positivity rate in Texas?
As coronavirus testing continues in Texas, some have wondered how the number of tests being performed compares to the number of cases reported in the state.
According to the Texas Department of State Health Services, there have been more than 30.8 million tests performed in the state since the pandemic began. More than 2.53 million cases of coronavirus have been reported in the state. That works out to an overall positivity rate of about 7.59% as of June 9. The first chart below shows that data.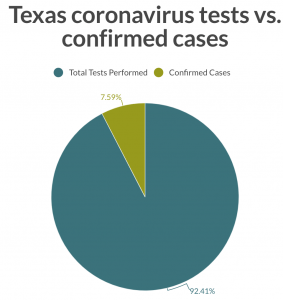 On Dec. 11, DSHS once again changed the way that the positivity rate for the state is calculated. The new method splits the positivity rate by the types of tests — molecular or antigen — that are being performed and bases the rate on the date the sample for the test was collected. This means that the rate for any particular day could change based on when a test sample was collected. As of June 8, the molecular positivity rate was 2.96% and the antigen positivity rate was 2.57%.
Texas Gov. Greg Abbott has
said specialized strike teams will be used to help control any outbreaks of the coronavirus that happen as the state's economy reopens.
Harris County leads the state in the number of coronavirus cases being reported at more than 402,000. The positivity rate for the county is seen in the second chart below.
Source: www.click2houston.com