US Congress in turmoil as violent Trump supporters breach building
Violent supporters of President Donald Trump have breached the Capitol in Washington, as lawmakers met to confirm President-elect Joe Biden's poll win.
In dramatic scenes, demonstrators swarmed the building as Congress members were escorted out by police.
Mr. Biden said the action should "end now", and Mr. Trump released a video message asking supporters to go home.
The joint session of Congress certifying Mr. Biden's win has been suspended and forced into recess.
There are reports of guns drawn in the building and at least one person shot. A woman was reported to be in critical condition after receiving a neck injury.
There has been an armed confrontation at the doors of the House of Representatives. Tear gas has also been used.
Members of Congress have been told to evacuate the building or remain where they are. One congresswoman tweeted that she was staying in her office.
Mr. Trump recorded a video message on Twitter calling on supporters to leave the Capitol but continuing to make unsubstantiated claims that Democrats had stolen the election.
"I know your pain, I know you're hurt," he said. "You have to go home now, we have to have peace… we don't want anybody hurt."
Mr. Biden said the demonstration "borders on sedition and it must end now".
"At this hour our democracy is under unprecedented assault," he said.
Mr. Trump's spokeswoman, Kayleigh McEnany, tweeted that the National Guard was being deployed.
Rioters were seen marching through the building chanting "We want Trump" and one was photographed in the Senate president's chair.
A citywide curfew has been declared from 18:00 to 06:00 (23:00 to 11:00 GMT) by Washington DC's mayor.
There are also reports of protests at state legislatures in Kansas and Georgia.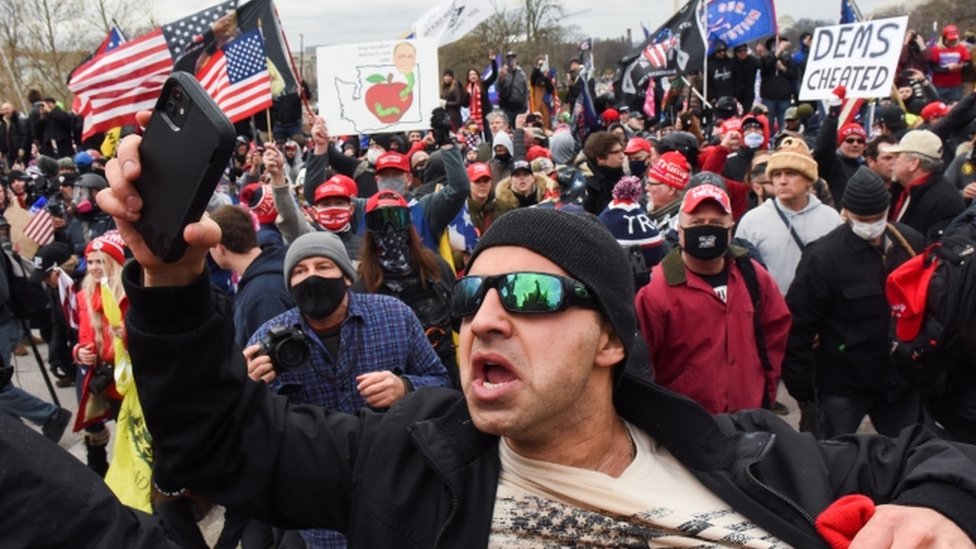 Trump's disruptive legacy
It's a wildly dramatic day on Capitol Hill, Shakespearean in scope.
In the dying days of the Trump administration, the fuming president, unable to accept that he's lost an election, has ordered his faithful followers to march on Congress, as lawmakers certify Joe Biden's win and loyalist Republicans try to disrupt that process.
Sirens are wailing outside Capitol Hill, and police are swarming everywhere – camouflaged tactical officers are the latest to arrive.
From within the chamber and outside, the party of Trump in its different factions is chanting "stop the steal". Mr. Trump's angry and disappointed supporters have quite literally stormed the citadel, breaching the US Capitol building.
It's a frightening atmosphere, with police massing on the scene, sirens wailing, people chanting "USA" and screaming at law enforcement. All this as Mr. Trump's loyal vice-president and his Senate majority leader desert him at the 11th hour, and refuse to abandon their adherence to the constitution and subvert the election result.
Not since Herbert Hoover in 1932 has a president lost the White House, the House of Representatives, and the Senate. This alarming scene in Washington as the world watches is Mr. Trump's disruptive legacy.
It's a tense and volatile atmosphere, and not what a peaceful transfer of power looks like.
What were the protesters targeting?
A joint session of Congress was being held to certify Mr. Biden's election victory on 3 November.
The proceedings are usually brief and ceremonial but Republican lawmakers have been objecting to some results.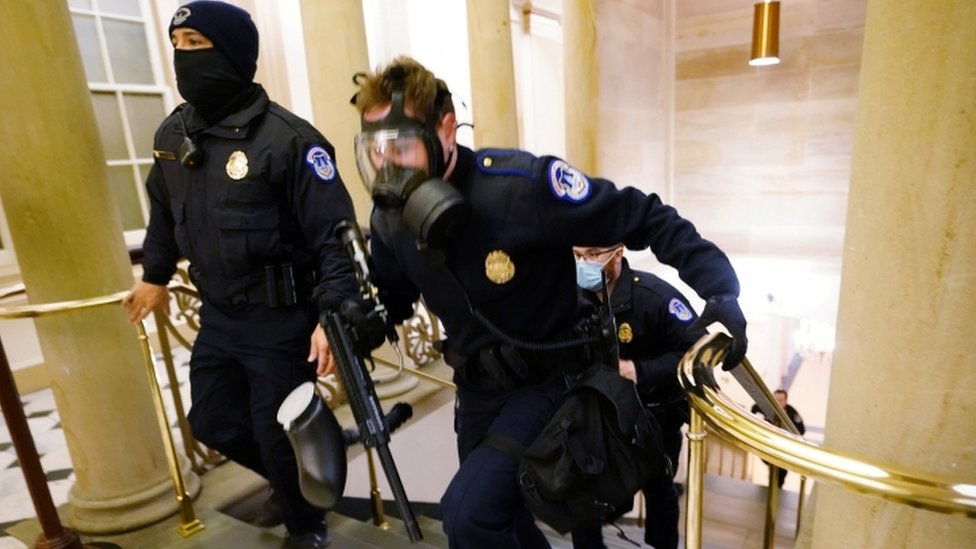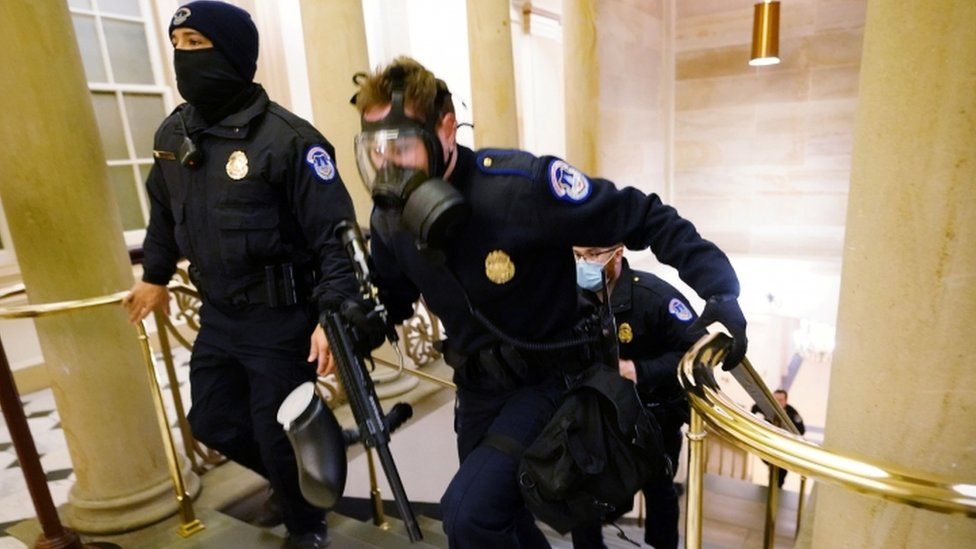 For days Mr. Trump had also been putting pressure on Mr. Pence, who is presiding over the session, to block certification of the result.
But in a letter to Congress on Wednesday, Mr. Pence said that he had no "unilateral authority to decide which electoral votes should be counted".
The protesters arrived at the Capitol from a "Save America Rally", where Mr. Trump had urged them to support those legislators opposing Mr. Biden's confirmation.
Mr. Trump has refused to concede the 3 November election, repeatedly alleging fraud without providing any evidence.
On Wednesday, he said again: "We will never give up. We will never concede."
He has also tried to throw doubt on the integrity of Tuesday's Senate run-off votes in the southern, traditionally Republican, state of Georgia. Projections by US TV networks suggest the Democrats have won one of the seats and are neck-and-neck for the second seat.
If the Democrats win both they will gain effective control of the Senate – something that will help Mr. Biden push forward his agenda after he is inaugurated as president on 20 January.