U.S. Must Elect 28,123 More LGBTQ Officials; National Out to Win Day Ask LGBTQ People to Run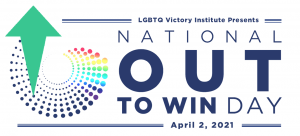 This Friday, April 2, LGBTQ Victory Institute will hold it's third annual National Out to Win Day, which aims to inspire LGBTQ people to consider a run for office. LGBTQ people are 5.6 percent of the U.S. population yet hold just 0.19 percent of elected positions nationwide. With just 979 out LGBTQ elected officials currently serving, America must elect 28,123 more LGBTQ people to achieve equitable representation. National Out to Win Day aims to tackle that disparity with high-profile politicians, celebrities, and other influencers promoting the day and the importance of running for office.
At OutToWin.org, 17 LGBTQ elected officials, including U.S. Senator Tammy Baldwin, share video messages intended to make a run for office more accessible and ensure LGBTQ people know they are qualified and can make an impact. The website also provides a new 35-minute "first steps" training video with Victory Institute staff, campaign experts, and LGBTQ elected officials. A Facebook Live event at 1 pm ET, opened by U.S. Representative Ritchie Torres, includes a panel with LGBTQ state and local officials discussing the unique opportunities and challenges LGBTQ candidates to face.
A social media toolkit is provided for media outlets or individuals interested in promoting the day.
"While more LGBTQ people are running for office than ever before, we still hold a tiny proportion of elected positions when compared to our numbers in the U.S. population," said Mayor Annise Parker, President & CEO of LGBTQ Victory Fund. "This disparity has a profound impact on our nation's politics and policies and slows our move toward full equality. Yet when LGBTQ people run, they win. If together we launch a moonshot effort to urge LGBTQ people to run – and LGBTQ people begin to look at themselves and think they can do it – we can close the representation gap and transform America's politics. But it will take all of us."
The Facebook Live event opened by Rep. Torres includes a panel with Arizona state Representative Daniel Hernández Jr., Justice of the Peace for Washington County (AR) Evelyn Rios Stafford and Washington, DC Advisory Neighborhood Commissioner Rehana Mohammed. The panelists will talk about how they first decided to run and share tips about running as an LGBTQ candidate. The panel will be live here.
National Out to Win Day was launched in 2019 to address the severe underrepresentation of LGBTQ elected officials at every level of government. The event is held on April 2 in honor of Kathy Kozachenko's election to the Ann Arbor, Michigan city council on that day in 1974. This year is the 47th anniversary of that victory, when she became the first out LGBTQ person ever elected to public office in the United States, and likely the world. The day is meant to encourage LGBTQ people to run for office and for others to urge LGBTQ friends and family to consider it as well.