Trump allies and rivals rally to his defence after he claims arrest is imminent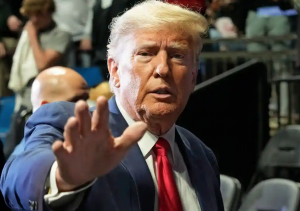 Top Republicans, including some of Donald Trump's potential rivals for the party's 2024 presidential nomination, rushed to his defense after the former president said he expected to be arrested next week.
On Saturday, Trump announced he would be arrested on Tuesday in a criminal case involving hush money payments to adult film star Stormy Daniels, but there has been no official confirmation on the likelihood that charges will be brought.
"The idea of indicting a former president of the United States is deeply troubling to me, as it is to tens of millions of Americans," said former vice-president Mike Pence, who is widely expected to launch a campaign for the Republican nomination in the coming weeks.
The reaction underscores the political risks faced by would-be opponents who are eager to convince voters that it is time to move on from the former president, but who must contend with the fact that he remains the most popular figure in the party.
Trump garnered similar support last summer after the FBI searched his Mar-a-Lago club as part of an investigation into his handling of classified documents. The search also proved a fundraising boon.
Among those coming to Trump's defense on Saturday was House speaker Kevin McCarthy, who said a possible indictment would be "an outrageous abuse of power by a radical DA [district attorney] who lets violent criminals walk as he pursues political vengeance" against Trump.
McCarthy said he would direct relevant Republican-led House committees "to immediately investigate if federal funds are being used to subvert our democracy by interfering in elections with politically motivated prosecutions". McCarthy has not endorsed Trump's White House campaign, but Trump helped McCarthy secure the speakership after a contentious campaign that required multiple rounds of voting.
McCarthy's predecessor as speaker, Democrat Nancy Pelosi, said in a statement, "the former president's announcement this morning is reckless: doing so to keep himself in the news and to foment unrest among his supporters."
"He cannot hide from his violations of the law, disrespect for our elections, and incitements to violence."
On Saturday, Trump posted a message on his Truth Social platform, referring to himself in the third person, saying: "The far and away leading Republican candidate and former president of the United States of America will be arrested on Tuesday of next week."
Law enforcement officials in New York have been making security preparations for the possibility that Trump could be indicted, but there has been no public announcement of any timeframe or any indictment.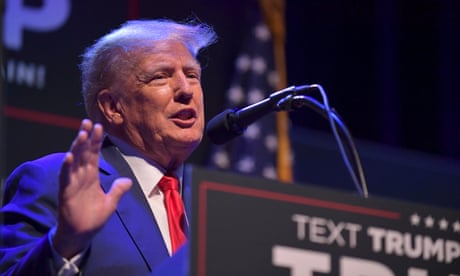 The district attorney's office declined to comment.
In his post, Trump called on his supporters to "PROTEST, PROTEST, PROTEST!!!"
The post evoked the message from the then-president that preceded the insurrection by extremist supporters at the US Capitol on 6 January 2021 which ultimately failed to thwart the certification of Joe Biden's victory.
Pence, who has been escalating his criticism of the former president in recent weeks, said: "No one is above the law." He added: "I'm confident President Trump can care for himself. My focus is going to continue to be on the issues that are affecting the American people."
Pence had been noncommittal when asked on Thursday if Trump should drop out if he was indicted. "I think it's a free country. Everybody can make their own decisions," he said.
Trump has said he would continue his presidential campaign even if indicted.
Representatives for the Florida governor, Ron DeSantis, another potential candidate who is seen as Trump's most serious rival, did not immediately respond to requests for comment. Former UN ambassador Nikki Haley, another declared candidate, did not address the investigation while campaigning in South Carolina.
It emerged in January that Manhattan district attorney Alvin Bragg had made the surprise move to impanel a grand jury to hear evidence in the Daniels case, which had previously faded from the spotlight.
Daniels met with investigators in Manhattan earlier this week to discuss Trump's role in a $130,000 payment she received in 2016 aimed at dissuading her from going public during the election about claims she had a sexual liaison with the married Trump in 2006 – an infidelity Trump denies.
In 2016 during the election that Trump went on to win, his then-lawyer, Michael Cohen, made the payment and arranged another payout to a different woman. Cohen has said that the money was paid at Trump's direction.
Federal prosecutors in 2018 charged Cohen with campaign finance crimes related to payments to Daniels and to a Playboy model, Karen McDougal, arguing that the payouts amounted to impermissible gifts to Trump's election effort. Cohen pleaded guilty, served prison time, and was disbarred. Federal prosecutors never charged Trump with any crime.
Any charges, in this case, would most likely involve state crimes of falsifying business records, typically a misdemeanor but a felony, if it was part of a cover-up or wider criminal wrongdoing, and here, could revolve around campaign finance illegality.
Kevin O'Brien, a former federal prosecutor and now a partner at Ford O'Brien in New York specializing in white-collar criminal defense told the Guardian that for a felony charge, prosecutors would have to prove Trump showed an "intent to defraud" when his company "falsely accounted" for the payments to Daniels as legal expenses and effectively argue that the payments were synonymous with illegal donations to Trump's 2016 election campaign, which would violate New York election law.
O'Brien said that any criminal charges for Trump would be messy and confusing for voters and potential jurors.
"How could this guy be running for a president facing a conviction for an act of dishonesty that was indictable?" he said.
Trump has cast the investigation as a "witch-hunt" and says he believes an indictment would help him in the 2024 race.
Senator Lindsey Graham, a longtime Trump ally, agreed: "The prosecutor in New York has done more to help Donald Trump get elected."