Tropical Depression Imelda Creates Flash Flood Emergency for Southeast Texas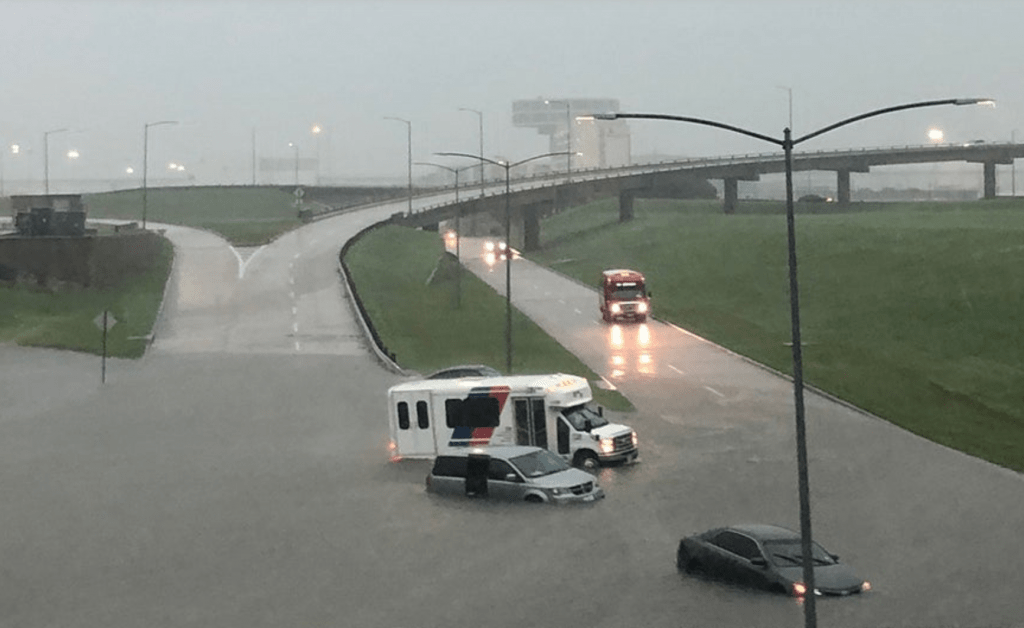 Flash flood emergencies are declared in parts of nine counties.
Floodwaters trap people in homes and cars from Winnie to Beaumont, Texas.
Mandatory evacuations were ordered in several communities.
The Texas governor declared a state of emergency in 13 counties.
Many schools remained closed or had to close early on Thursday.
East of Houston, a confirmed tornado damaged homes in Baytown on Wednesday.
Torrential rainfall from Tropical Depression Imelda has led to life-threatening flooding Thursday across Southeast Texas.
Thursday afternoon, a possible tornado destroyed a mobile home in Hackberry, Louisiana, the Cameron Parish Sheriff's Office reported.
Earlier in the day, law enforcement officials from Houston to the Louisiana state line pleaded with residents to stay off the roads.
"Wherever you are, stay where you are," Houston Mayor Sylvester Turner said during a news conference about 10:45 a.m. CDT. He especially urged people not to leave work early. He asked them to stay until the storms have passed later in the day.
The National Weather Service issued a flash flood emergency for parts of southwestern San Jacinto, southeastern Montgomery, northwestern Chambers, southwestern Liberty and northeastern and north-central Harris counties. A flash flood emergency was also declared in southwestern Newton County, southern Hardin County, Orange County and southeastern Jasper County.
"This is an incredibly dangerous, life-threatening situation," the NWS said.
Texas Gov. Greg Abbott declared a state of emergency in 13 counties, which helps local officials get access to state resources.
Makensie Hinkle✔@MakensieTVNews
WOW | This is a picture taken at College and M L King dr. This flooding is devastating in Beaumont, TX. @12NewsNow #TropicalDepressionImelda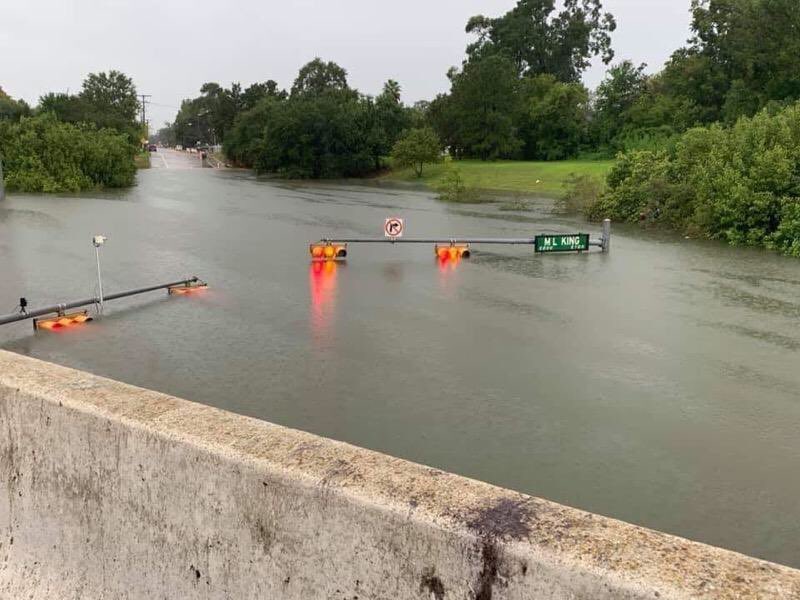 22211:52 AM – Sep 19, 2019 · Beaumont, TXTwitter Ads info and privacy266 people are talking about this
More than 75,000 homes and businesses were without electricity as of 1 p.m. CT, according to poweroutage.us. CenterPoint Energy pushed back estimated power restoration time 12 hours saying it was not safe for its employees to assess damages.
"The community of Winnie is being devastated by rising water," the Chambers County Sheriff's Office reported in a Facebook post.
More than 1,000 people had called saying they needed to be rescued, KMBT reported, adding that 911 was overwhelmed. Officials used dump trucks and air boats to rescue people. Some homes had 4 to 5 feet of water inside.
Patients were evacuated from Riceland Medical Center after 4 to 6 inches of rain entered the hospital in Winnie, about 60 miles east of Houston.
"What I'm sitting in right now makes Harvey look like a little thunderstorm," Chambers County Sheriff Brian Hawthorne told KTRK. "It's dire out here. I'm fearful for this community right now."
Hawthorne told KTRK about 20 percent of the 2,500 homes in Winnie have water in them.
Neighboring Jefferson County was being inundated, too.
Jefferson County Judge Jeff Branick ordered an evacuation of Bevil Oaks. Jefferson County Drainage District 7 closed the gates on Highway 365 because the Rodair Gully was overflowing its banks. The water was too high to pass through, officials said.
Judge Branick also ordered Gilbert Lake Estates to evacuate saying the Green Pond Gulley Levee was deteriorating and could break at any moment. The sheriff's office said rescue boats were scarce and it encouraged people with boats to pick up their neighbors.
The Jefferson Sheriff's Office said people were being rescued from their flooded homes and stranded vehicles. Many area highways were flooded.
Motorists were stranded along Interstate 10 because of the flooding, and the Texas Department of Transportation closed the interstate in both directions between Winnie and Beaumont.
Collin Myers ABC13✔@collinabc13
Whoa.

Serious #flooding. | I-10 east into Beaumont, TX. #Imelda #txwx
Picture: Manny Valdez.@abc13houston http://abc13.com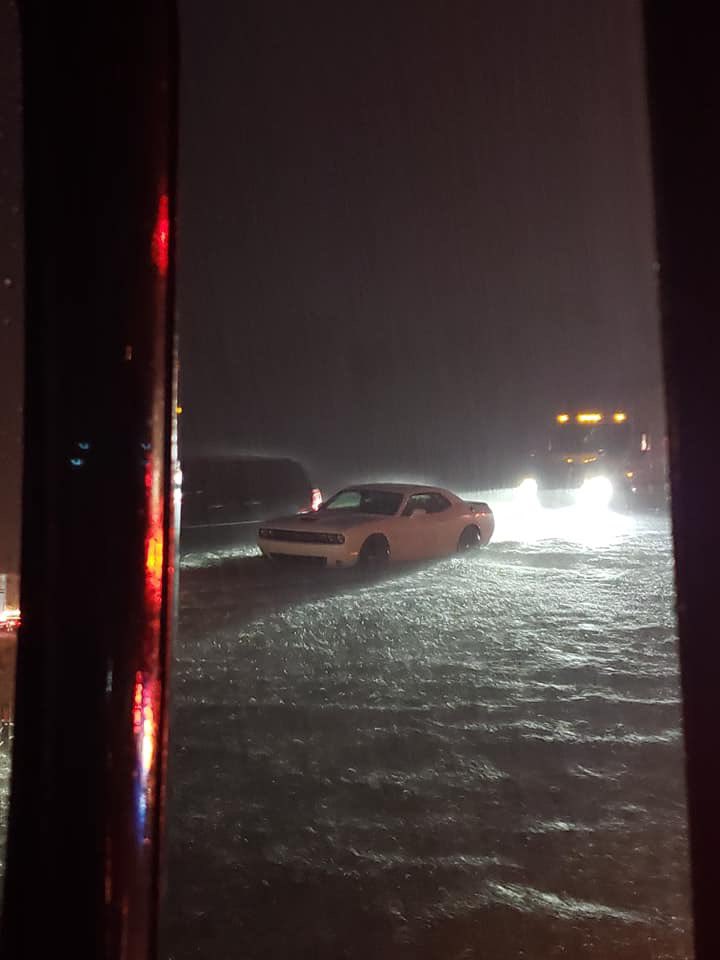 1086:07 AM – Sep 19, 2019 · Houston, TXTwitter Ads info and privacy94 people are talking about this
The Beaumont Police Department said in a tweet that the 911 dispatch center had received more than over 250 calls for high water rescues and 270 evacuation requests.
Exxon Mobil said it was shutting down its petrochemical operations in Beaumont, according to the Beaumont Enterprise. The company was also considering closing its oil refinery there.
Two hospitals in Orange County, Christus St.Elizabeth and Baptist, were cut off by floodwaters, the Orange County Sheriff's Office said. Many of the county's roads were flooded.
Orange County Sheriff Keith Merritt told the Houston Chronicle he was in a truck that had rescued about 40 people in Vidor. He said there were four or five other trucks doing the same.
"It's bad right now," Merritt said. "There is a lot of flooding. There are a lot of stalled vehicles out here. People need to stay inside if possible. Water is real swift on the streets."
KMBT had to evacuate its offices in Beaumont, Texas, after water began flowing across the floors. The station began broadcasting the news from KHOU offices in Houston. KHOU later lost electricity but had backup generators.
Several locations between Winnie and Beaumont have reported 30 to 35 inches of rain over the past two days.
North of Houston, in Montgomery County, many roads in Splendora were underwater, according to the police department.
About 9:30 a.m. Thursday, Hardin County Judge Wayne McDaniel issued a mandatory evacuation order for Pinewood Estates, Countrywood Estates, and Rose Hill Acres, which are north of Beaumont, Texas.
George Bush Intercontinental Airport in Houston announced a full ground stop, meaning no flights landing or departing, because of the weather. Some inbound flights were diverted to William P. Hobby Airport, on the south side of Houston, the Associated Press reported. More than 425 flights were canceled at Bush Intercontinental by 1 p.m., according to flightaware.com.
As of 11 a.m., the airport had received 6.42 inches of rain in two hours. The airport averages 4.07 inches for the entire month of September.
Some school districts had canceled classes Thursday, but in others students were on buses or had reached school before the flooding began.
In Conroe, students who were already picked up by busses or dropped off were held at their campuses until they could be "safely dismissed," the Houston Chronicle reported. Students and teachers in Houston ISD, Dickinson ISD and Aldine ISD were sheltering in place late Thursday morning.
METRO Houston announced all bus service was stopped because of the bad weather.
The Houston Fire Department said the roof of a post office mail distribution facility on Aldine Bender Road collapsed. Three people with minor injuries were taken to a hospital.
Houston Police Chief Art Acevedo tweeted that streets in the Kingwood area north of Houston were flooded and the department was helping with water rescues. He also said water was entering homes in the Elm Grove subdivision in Kingwood.
Flooding was also occurring in the Greenspoint area.
More than 1,000 people were rescued or evacuated from high water in Harris County, which surrounds Houston, Fire Marshal Laurie Christensen said in a news conference Thursday afternoon.
Harris County Sheriff Ed Gonzalez tweeted that a county truck rescued nine children and staff members at a daycare center where water had entered the building. He said officials were making a plan to reunited the children with their families.
@hcsotexas rescue truck is enroute to Academic Academy Daycare at 11948 Glover (Aldine). Parents be advised, kids are ok, they are safe. Staff there is doing good. Facility has taken in some water, but kiddos & staff are in a room with no water. #HouNews #HouWx5212:51 PM – Sep 19, 2019Twitter Ads info and privacy40 people are talking about this
On Wednesday, several homes were damaged by a tornado in Baytown, Texas, about 20 miles east of Houston. Tornadoes were also reported near Mont Belvieu and Anahuac in Chambers County.

Tornado near Highlands, Tx Few minutes ago. Drone capture with 360 around tornado. #Tornado #Imelda #drone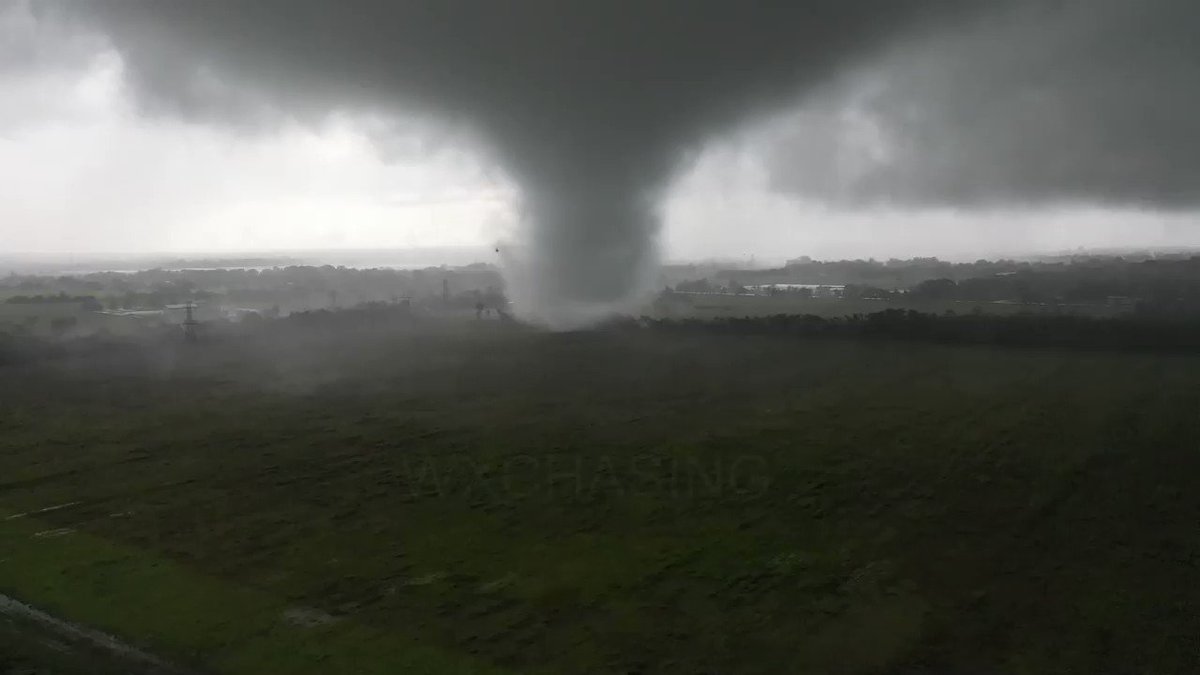 2,7026:17 PM – Sep 18, 2019Twitter Ads info and privacy1,212 people are talking about this
Snapmap showing tornado damage in the Baytown area (east of Houston) #txwx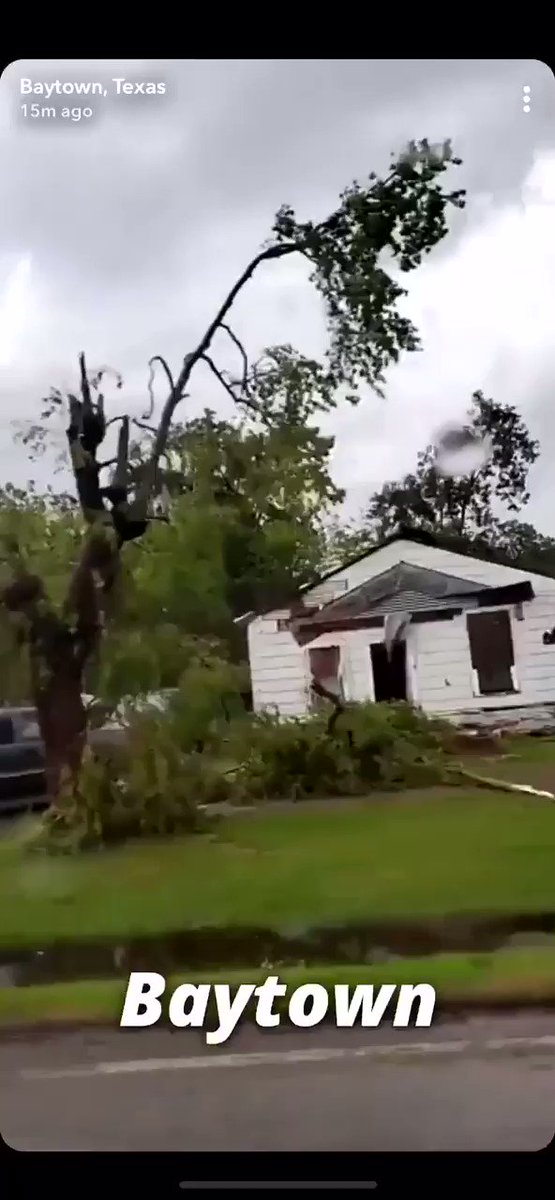 256:14 PM – Sep 18, 2019Twitter Ads info and privacySee Chase Benton's other Tweets
There were no immediate reports of injuries or major damage.
Water also rose close to the entrances of some historic Galveston buildings on Wednesday morning, according to KTRK-TV.
Water is up over the sidewalks and appears to be about to enter historic buildings along the Strand https://abc13.com/weather/high-water-threatens-buildings-in-galvestons-strand-district/5549177/?ex_cid=SND_KTRK_TWWX&utm_source=twitter&utm_medium=social&utm_campaign=sndwx …High water from Imelda threatens buildings in Galveston's Strand districtHeavy rains from what was once Tropical Storm Imelda have deluged Galveston Island.abc13.com229:01 AM – Sep 18, 2019Twitter Ads info and privacySee Houston Weather's other Tweets
The station reported that several roads were impassable and some cars had become stranded in high water. The City of Galveston said on Twitter that some public transportation services had been suspended due to the weather.