Three people killed in crash on the north side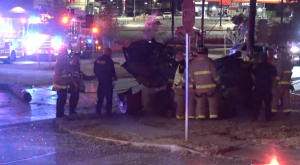 Eyewitnesses said the sound of the crash that killed three young people overnight on Thousand Oaks Drive is something they may never forget.
Taylor Tucker was outside in his backyard directly across the street when he heard tires squeal just after 10 p.m.
He said he looked up and heard the crash of what he knew was a fatal impact.
"The second I saw it, I ran as fast as I could.  There was nothing I could do to help anybody," Tucker said, adding that many people tried to come to the aid of the victims.
Tucker said "Multiple people were trying to help but the interior of the car was so mangled there was no way I could get to them. It was no way, they had to be cut out by the jaws of life."
Eric Santos said he was driving by and stopped to help.
"That's somebody's family members, me personally I wanted to get out and help and see what I could do because this could happen to anyone and you don't want to see someone's family members like that," Santos said.
Police said the frantic efforts by everyone involved were not enough.
The Medical Examiner has not released the names of the deceased, saying their identifications are only tentative, but they believe the dead are a 22 year old woman, a 17-year-old boy and a ten-year-old boy. The woman has been identified as Evelyn Flores.
Police said the driver of the southbound car failed to yield the right of way to an oncoming northbound Jeep.
The driver of the Jeep was taken to the hospital as well.  A condition update on that person is not available.
Santos said he hopes the family members of the victims know they were not alone in the end.
"Nobody gave up. Everybody was here trying to help out and trying to see what was wrong and they weren't left there to be forgotten or nothing. We were there trying to help. Everybody was trying to help:  police, firefighters, bystanders, anybody," Santos said.
Police said a secondary accident happened when a passing pickup truck came into contact with wires knocked down in the initial crash.
That driver did not require medical attention.
The force of the collision rattled a large concrete pillar out of its base and sheared a utility pole clean off.
Tucker said he hopes the crash will result in some sort of upgrade to traffic control at the corner of Alamo Blanco, where he said drivers often treat Thousand Oaks like a raceway.
"This is like a drag strip every night!  I would do anything for a light right here.  Anything for a light!" Tucker said.
A steady stream of people came to pay their respects at the site Monday morning.
Jennifer Johnson brought flowers.
"I came here to leave flowers because that could have been anybody's kids. I seen it on the news this morning and it definitely does break my heart," Johnson said.
Source: kens5