Texas Reports Record 12,293 New Coronavirus Cases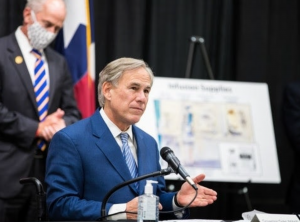 Texas reported a single-day high of 12,293 new cases of the coronavirus, setting the record 10,824 set just two days earlier. Health district officials also reported 230 new deaths, bringing the cumulative number of fatalities to 20,113 since the onset of illness.
The data are recorded on a statistical dashboard maintained by the Texas Department of State Health Services. According to the dashboard, there are 147,030 active coronavirus cases across the state.
The new daily high of cases came as Gov. Greg Abbott traveled to Lubbock, Texas, to provide an update on the distribution of bamlanivimab, the Eli Lilly & Company monoclonal antibody therapy for COVID-19. The Texas Department of State Health Services has allocated an initial shipment of bamlanivimab to acute care hospitals across Texas with additional doses expected to be shipped each week, Abbott said.
"Every day, the Lone Star State is closer to turning the corner of this pandemic thanks to medical advancements like bamlanivimab," Abbott said. "This therapy drug will help prevent hospitalizations and reduce the strain on our healthcare system and workers. However, as encouraging as these advancements are, there is still no substitute for personal responsibility. The State urges all Texans to continue to wear a mask, social distance, and wash your hands, especially as we head into the holiday season."
Health officials described bamlanivimab as a drug designed for outpatients with mild to moderate COVID-19 who are 12 years or older and at higher risk of severe disease. The drug, officials added, has been shown to prevent hospitalizations in some patients when used before they become very sick. Officials added that the initial allocation is phase one and focused on hospitals while phase two may be broader and include other facilities such as nursing homes and infusion centers.
Gov. Greg Abbott traveled to Lubbock, Texas, to talk about the antibody therapy bamlanivimab as Texas achieved a new all-time high of 12,293 new cases of the coronavirus. Photo provided by the Texas governor's office.
Hospitals that were allocated doses should have received or will be receiving calls about their allocations over the next few days from AmerisourceBergen, the same distributor as remdesivir, officials said. Hospitals can accept or decline their allocation, officials noted, and declined doses will be reallocated to other Texas hospitals.
Despite the soaring rates of illness, Abbott has vowed not to issue a shelter-in-place order to blunt the further spread of illness.
According to the state's dashboard, the 20 counties with the greatest number of cumulative coronavirus cases are:
Harris County: 177,466.
Dallas County: 111,960.
El Paso County: 77,977.
Tarrant County: 76,140.
Bexar County: 59,220.
Hidalgo County: 38,687.
Travis County: 35,326.
Lubbock County: 27,105.
Cameron County: 25,308.
Collin County: 22,337.
Fort Bend County: 18,972.
Webb County: 18,109.
Denton County: 17,553.
Nueces County: 16,876.
Montgomery County: 14,331.
Galveston County: 13,827.
Brazoria County: 13,516.
McLennan County: 12,761.
Williamson County: 11,184.
Potter County: 11,052.
The 25 counties with the most number of fatalities to date are:
Harris County: 2,943.
Hidalgo County: 1,788.
Bexar County: 1,465.
Dallas County: 1,429.
Cameron County: 1,001.
Tarrant County: 968.
El Paso County: 876.
Travis County: 464.
Nueces County: 421.
Webb County: 366.
Fort Bend County: 324.
Lubbock County: 284.
Collin County: 229.
Montgomery County: 201.
Denton County: 199.
Brazoria County: 193.
Starr County: 187.
Smith County: 181.
Galveston County: 177.
Jefferson County: 172.
McLennan County: 170.
Maverick County: 169.
Williamson County: 161.
Val Verde County: 137.
Potter County: 128.
To see the full range of data related to coronavirus spread in Texas — including the counties with the most cumulative case totals and deaths — visit the Texas Department of State Health Services dashboard.