Texas preparing to take in nearly 300 Afghan refugees
Thousands of Afghan refugees will be coming to the United States.
Texas is preparing to take in at least 320 refugees in the next few weeks, some of which will settle in Houston.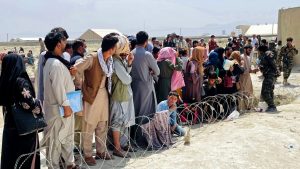 Interfaith Ministries For Greater Houston said 50-60 refugees are already in Houston.
"Interfaith Ministries, we resettled several families over the last couple weeks and we are expecting more families to come," said Ali Al Sudani, Chief Programs Officer for Interfaith Ministries.
Al Sudani said the refugees first arrived at Fort Lee, Virginia before being flown to Houston. He said the organization helped them find apartments and settle into their new home. Al Sudani said they'll also assist the refugee to learn English and find jobs.
Al Sudani was a refugee himself more than a decade ago, leaving the Middle East by way of Jordan. He said he understands what it's like to have to move to a new country and learn a new language and way of life.
"I came here in 2009 as a refugee from Iraq," he said. "I was working for the British and the American troops back home and because of security concerns I was threatened and had to flee Iraq."
Interfaith Ministries is collecting monetary donations, as well as children's clothing, toys, and gift cards for the refugees. You can learn more here: https://www.imgh.org/
The refugees have applied for special immigrant visas and will undergo security background checks and health screenings.
Refugee Services of Texas released a statement saying it "is closely monitoring the situation in Afghanistan and lending support wherever we can. We stand ready, willing, and able to work with our national resettlement partners, elected representatives, and the military to process and resettle as many people as possible."
The images from the International Airport in Kabul are alarming.
Many Houstonians are concerned about their loved ones still in Afghanistan.
We talked to an Afghan man who moved to Houston a few years ago after working as an interpreter for the United States. Now that the Taliban has taken over, he fears for his family's safety. They have been hiding in their home for days.
That man has filed a case to get his family out of Kabul, but since they closed the embassy, he doesn't know how to get them out, even if it's approved.
Source: www.click2houston.com