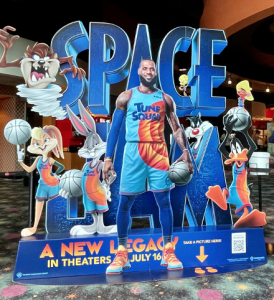 SPOILER ALERT! – There will be some spoilers below so if you have yet to see the movie SpaceJam: A New Legacy, proceed with caution.
Que Onda! We are everywhere you need us to be!
SpaceJam: A New Legacy came out Friday, July 16 starring LeBron James and the Tune Squad. This movie focuses on the relationship between LeBron and his son, Dominic "Dom." The four-time NBA Champion played himself in the movie but with a twist! He portrays a strict father who wants his children to take after him with his love and passion for basketball. However, his son Dom is more of a gamer and has a passion for creating video games. This creates a strain between the two, which allows the protagonist, Al G. to swindle his way in. Al G. challenges LeBron to a basketball game where LeBron has to fight back to get his son and escape Al G's digitalized world. LeBron is then sent to Tune World to gather his team and prepare them for what's to come!
You will see a lot of familiar characters like Bugz Bunny, Marvin the Martin, Donald Duck, and even Rick and Morty! Don't miss out on watching this great film – get your tickets now!