Sherlock Holmes at the Alley
Alley Theatre Announces the Cast & Creative Team of
Sherlock Holmes and The Case of the Jersey Lily
Alley Theatre Resident Acting Company Member Todd Waite Returns to the Role of Sherlock Holmes for the Fifth Time at the Alley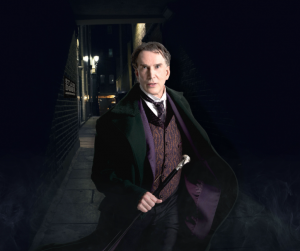 The Tony Award®-winning Alley Theatre announces the cast and creative team of Sherlock Holmes and The Case of the Jersey Lily. The comedy-mystery Sherlock Holmes and The Case of the Jersey Lily by Katie Forgette and directed by Alley Theatre's Associate Producer & Casting Director Brandon Weinbrenner runs April 14 – May 7, 2023 in the Hubbard Theatre.
"I'm thrilled for Todd Waite's long overdue return as Sherlock Holmes," shares Artistic Director Rob Melrose. "Theatre lovers will delight in this play particularly for its backstage antics and for the secondary character of Oscar Wilde as he struggles to compose his masterpiece The Importance of Being Earnest. Sherlock Holmes and the Case of the Jersy Lily is full of mystery and thrills but it is also a great comedy as well.  I'm excited to share this play with Houston audiences!"
The wit of Oscar Wilde meets the cunning of Sir Arthur Conan Doyle. In this comic twist on a classic sleuthing caper, Wilde's muse, actress Lillie Langtry (a.k.a the Jersey Lily) presents Holmes with what seems like an open and shut case. But with his superior powers of deductive reasoning, Sherlock wastes no time in exposing a much more sinister conspiracy. Meanwhile, Oscar Wilde is in the throes of writing his acclaimed The Importance of Being Earnest and Holmes might inspire some of the play. In a fast-paced ride full of surprises and disguises, Holmes and Watson must do whatever it takes to help their friends…while facing their greatest foe.
"I'm thrilled to bring one of literature's most iconic and dynamic characters back to the Alley Theatre," shares Brandon Weinbrenner. "This time Sherlock Holmes takes us to a setting all our audiences can relate to, the world of live theatre! Adventure and mishaps pepper the way as Sherlock quips with the Oscar Wilde, dons disguise, reveals imposters, and plots with Dr. Watson how to save our leading lady Lillie Langtry from the greed and evil that lurks in the London shadows.
The cast of Sherlock Holmes and The Case of the Jersey Lily includes Alley Theatre Resident Acting Company Members Todd Waite as Sherlock Holmes, Elizabeth Bunch as Mrs. Irma Tory/ Mrs. McGlynn, and Christopher Salazar as Oscar Wilde.
Rounding out the cast is Orlando Arriaga (72 miles to go…, Ken Ludwig's Lend Me a Soprano) as Dr. Watson/ Man 2, Brandon Hearnsberger(Cowboy Bob, Ken Ludwig's Lend Me a Soprano) as Professor Moriarty, Krystel Lucas as Mrs. Lillie Langtry, and Levin Valayil as John Smythe/ Abdul Karim/ Man 1.
The creative team includes Scenic DesignerLawrence E. Moten III, Costume Designer Sara Ryung Clement, Lighting Designer Kevin Rigdon, Sound Designer Melanie Chen Cole, Fight Director & Intimacy Specialist Adam Noble, Stage Manager Rachel Dooley-Harris, and Assistant Stage Manager Kaylee Sarton McCray.
PRESS NIGHT: Wednesday, April 19 at 7:30pm. Invitations will be sent later.  
SPONSORS: Sherlock Holmes and The Case of the Jersey Lily is generously sponsored by Craig and Angela Jarchow (Honorary Producer), and Sidley and Shanda Family Foundation (Associate Producer). Alley Theatre is supported by the 2022-23 Season sponsors United Airlines, the official airline of Alley Theatre, and Hampton Inn and Homewood Suites Downtown Houston, the official hotel of Alley Theatre.
TICKETS: Tickets to Sherlock Holmes and the Case of the Jersey Lily are now on sale and start at $26. Discounted tickets are available for military, seniors, and any student or educator, regardless of age, with a valid student ID for designated performances. Tickets can be ordered online (alleytheatre.org) or by phone (713.220.5700).