CRIME 'Beef in the club' | Sheriff Gonzalez says deadly club shooting could have stemmed from argument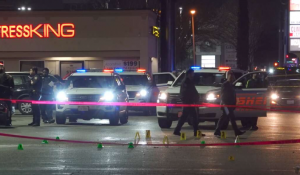 The Harris County Sheriff's Office is investigating a deadly shooting that left at least one person dead and four others hurt.
It happened just after 2 a.m. Sunday in the parking lot of a shopping center on FM 1960 near Champion Forest Drive in northwest Harris County.
According to a preliminary investigation, Sheriff Ed Gonzalez said a vehicle pulled up to the club when multiple people got out and started firing at anyone standing outside.
"It looks like over 50 shots were fired here, which is a very scary situation considering there's a mobile food truck here and the number of patrons outside," Gonzalez said.
At this time, Gonzalez said they believe the victims were two men and three women. All five were taken to the hospital where one of the men was pronounced dead. The sheriff did not have an update on the condition of the other four. Gonzalez also said they believe at least one AK-47 was used in the shooting.
HCSO Homicide is now looking for witnesses and surveillance footage to help them identify any possible suspects.
Gonzalez said he thinks the shooters may have been targeting specific people who were coming out of the club.
"If the information is correct that someone exited from a vehicle and began opening fire, that's probably a good indicator that they were coming with purpose — maybe targeting somebody. Maybe there was some sort of beef in the club, we just don't know for sure yet," Gonzalez said.
Those with information are asked to contact the Harris County Sheriff's Office or Crime Stoppers at 713-222-TIPS.
Source: khou