Roasted Lemon Chicken With Potatoes & Artichokes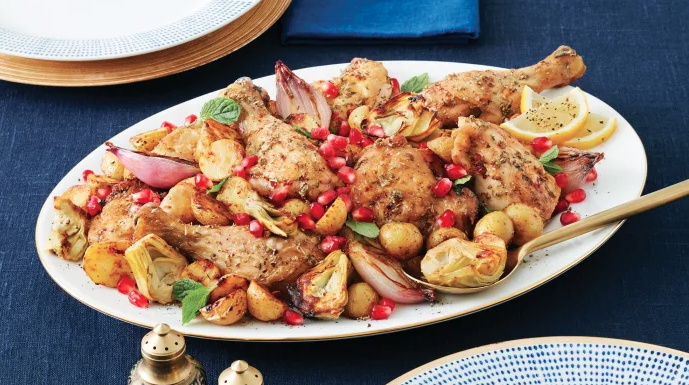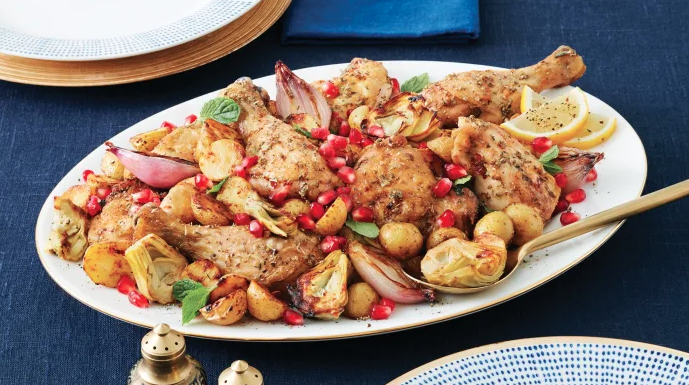 Source: https://www.cleaneatingmag.com/recipes/roasted-lemon-chicken-with-potatoes-artichokes-recipe
Prep It Ahead: Marinate chicken the morning of the seder, cover and keep in the fridge. Prep vegetables up to 1 day ahead: Chop potatoes and store in a bowl of cold water in the fridge; chop shallots and store in a glass container in the fridge; thaw artichokes in the fridge. Remove chicken and vegetables from refrigerator for about 30 minutes to bring to room temperature then assemble and proceed with recipe.
Health-giving Artichokes: Artichokes are brimming with healthful phytonutrients including quercetin, a flavonoid that helps fight against cell damage and inflammation. They also contain a good dose of fiber — with 7 grams in a medium artichoke — to help improve blood sugar levels. 
Ingredients
¼ cup fresh lemon juice
3½ tbsp extra-virgin olive oil, divided
1 tbsp red wine vinegar
2 tbsp dried oregano + additional for sprinkling
2 large cloves garlic, minced
1½ tsp sea salt + additional for sprinkling
ground black pepper, to taste
6 bone-in, skin-on chicken breasts (10 to 12 oz each), halved (or swap in 2 thighs or drumsticks for each breast for a mix of pieces)
4 large shallots, peeled and halved
5 oz frozen quartered artichoke hearts, thawed and patted dry
1 lb baby Yukon Gold potatoes, halved (or full-size potatoes, cut into 1-inch pieces)
mint leaves, lemon wedges and pomegranate seeds, for garnish, optional
Preparation
1. In a large bowl, whisk together lemon juice, 3 tbsp oil, vinegar, oregano, garlic, salt and pepper. Add chicken and toss to coat. Cover and marinate in the refrigerator for 6 to 8 hours, or overnight.
2. Preheat oven to 425°F. Line a rimmed sheet pan with parchment paper (or mist pan with cooking spray).
3. Arrange chicken on pan. Add shallots, artichokes and potatoes and spread evenly around the chicken. Drizzle vegetables with remaining ½ tbsp oil. Sprinkle everything with additional oregano and salt.
4. Bake for 35 to 45 minutes, until chicken is cooked through and internal temperature reaches 165°F on an instant-read thermometer in thickest piece without touching bone. Transfer to a platter and garnish with mint, lemon wedges and pomegranate seeds (if using).
Nutrition Information
Serving Size: 1/6 of reicpe
Calories: 491
Carbohydrate Content: 21.5 g
Cholesterol Content: 153 mg
Fat Content: 19 g
Fiber Content: 4 g
Protein Content: 57 g
Saturated Fat Content: 5 g
Sodium Content: 496 mg
Sugar Content: 2.5 g
Monounsaturated Fat Content: 9 g
Polyunsaturated Fat Content: 3.5 g