Orientation Day For Fort Bend County Summer Youth Employment Program Participants
To Provide Needed Support for Backlog Due to the Pandemic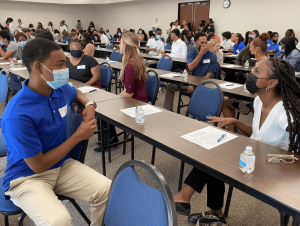 Today marks the first day of the Fort Bend County Summer Youth Employment Program (YEP). Nearly 150 youth and young adults participated in the County's Orientation Services held at the Fort Bend County Justice Center, 1422 Eugene Heimann Circle, this morning starting at 8:00 a.m.
The Fort Bend County Summer YEP provides quality summer experiences that build a pipeline to career opportunities for local youth ages 16-21. A primary goal of the summer employment program is to allow participants to earn while they learn and to expose them to careers of interest with the intention of creating a career-ready workforce.
Participants will have the opportunity to work side-by-side with professionals within a variety of County Departments and city governments and have the valuable opportunity to obtain exclusive job training and job skills that will benefit them academically and professionally.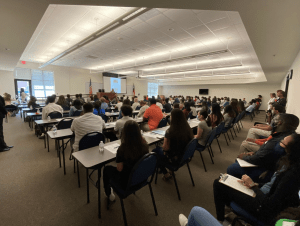 "Having employability skills is important to being competitive in today's job market, and providing our youth and young adults this opportunity is preparing them for success in their future pursuits. Participants will gain relevant government agency knowledge, skills, and work experience that will help them in the future," said Fort Bend County Judge KP George.
Participating departments include Fort Bend County Sheriff's Office, Behavioral Health Services, Commissioner Offices, Constable Offices, County Clerk, County Judge, Engineering, District Attorney, Human Resources, Fire Marshal, Health and Human Services, Homeland Security & Emergency Management, Information Technologies, and more. In addition, local cities including the City of Katy are joining the program to receive needed support.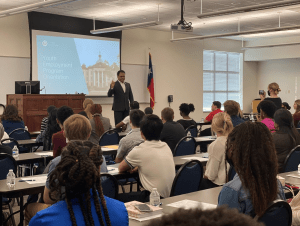 One million in funding provided by the COVID-19 American Rescue Plan Act (ARPA) for the Summer Youth Employment Program was approved by Fort Bend County Commissioners on June 1 to provide needed support for backlog due to the Pandemic.  Workers will be paid up to $15.00 per hour and can work up to 40 hours per week.
The Summer Youth Employment Program application posting was open from June 1 thru June 9, with a total number of 995 applications.