New survey links SW Houston conditions to greater burden of chronic disease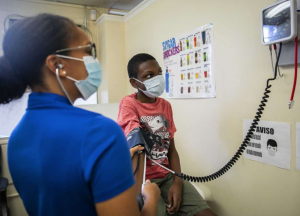 Southwest Houstonians have a greater burden of chronic disease than residents of other parts of the county and state, according to a new survey.
The survey, conducted by the Texas Health Institute, identified neighborhood conditions as a major reason why southwest Houston's diabetes rate is 72 percent higher than Harris County's overall rate and why its hypertension rate is 60 percent higher than Memorial Park's and 33 percent higher than Hunter's Creek's.
Many Southwest residents can't afford or access fresh produce and issues like crime and a lack of walkable space are barriers to exercise.
"These are deep-seated problems that time hasn't changed," said Nadia Siddiqui, director of health equity programs for the Texas Health Institute. "What came back loud and clear in the survey is that area residents know it's not just about health care. They know that safety, access to healthy food, and other socioeconomic factors are just as critical to their health."
Siddiqui said COVID-19 not only exposed but further exacerbated southwest Houston's challenges. She called the area's conditions "a perfect storm" even before the pandemic hit and emphasized that making the community better able to withstand future crises will require a greater investment in the area's health infrastructure.
The survey was commissioned by the Memorial Hermann Health System in connection with its initiative to tackle issues that contribute to chronic disease at the community level rather than wait for people to show up at its hospitals. The initiative includes upgrading parks, a partnership with the Houston Food Bank, and school-based clinics.
Dr. David Callender, president of Memorial Hermann, said the system hopes to create a model for how to improve the health of other communities based on the initiative. He said southwest Houston, where the system has a hospital and existing programs, is "at the top of the list of Houston's neediest areas."
"Most hospitals today focus on treatment, the core of what we do," said Callender. "But treating the same patient for the same preventable condition doesn't help the patient or the community's overall health. We must find a way to prevent illness in the first place. We need to focus on health as well as health care."