New Amazon layoffs are the latest correction to years of over-hiring in the tech industry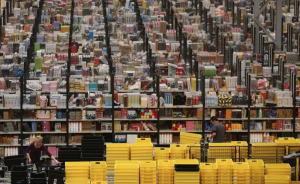 Amazon will lay off 9,000 white-collar employees by the end of April, CEO Andy Jassy announced on Monday (March 20), on top of the 18,000 jobs the online retailer has cut since November.
The decision comes amid a crunch in the tech industry that has led the e-commerce giant to cut its more than 1 million worldwide workforces with the company's largest workforce reduction ever. Jassy cited economic headwinds in a memo to employees.
"Given the uncertain economy in which we reside, and the uncertainty that exists in the near future, we have chosen to be more streamlined in our costs and headcount," Jassy said, specifically announcing cuts in some of Amazon's most profitable sectors, including Amazon Web Services, which is responsible for almost three-quarters of Amazon's entire profit margin.
The decision comes after Amazon went on a significant hiring spree during the pandemic. The previous round of layoffs targeted Amazon's sprawling human resources and recruiting teams, signaling a major shift in hiring strategy.
With over 1 million workers, Amazon is one of the largest employers in the world, however, the vast majority of the workforce is employed in the company's warehouse operations.
Why the tech industry is laying off so many people
Almost every major tech company has announced layoffs since the fall. The most common refrain in sheepish memos from CEOs? We hired too many people.
Tech companies such as Amazon, Meta, Alphabet, and Microsoft went on unprecedented hiring sprees in recent years, luring workers fresh out of college with six-figure salaries and lavish perks. Now, in just the last year and a half, nearly 300,000 of those fresh-faced new hires have been laid off, according to Layoffs.fyi, which is tracking the job cut announcements.
The companies chose to spend big on new talent, prompted in part by low-interest rates and a booming pandemic-era market, but mostly by the lottery ticket mindset that you just need one smart young person to come up with one good idea to hit payday.
In Silicon Valley, hiring has always been a numbers game, with corporate bloat just an unfortunate side effect. Now, these mass layoffs might be evidence that big tech's spend-first-ask-questions-later strategy could finally be coming to an end.
Source: qz