Mayor Sylvester Turner announces challenge to help Houston-area college students get vaccinated
Houston Mayor Sylvester Turner and local officials held a news conference at the University of Houston Monday to announce a competition between Houston-area universities to see which school can register the most students and alumni to receive doses of the COVID-19 vaccine.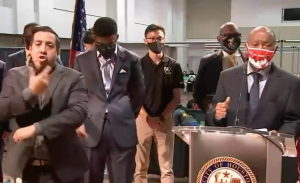 Monday is the first day all adults in Texas are eligible for the COVID-19 vaccine. The initiative will be known as the Take Your Best Shot college challenge.
Turner said the Take Your Best Shot challenge is a friendly competition to get as many students vaccinated as possible to stop the spread of the coronavirus. He said as those people wait to get the vaccine, to please get tested in the meantime.
Rice University
Rice University said they are still waiting to receive vaccinations from the state in order to offer them to all students and staff. They do not know when that will happen.
The University of Houston
The University of Houston said they've vaccinated about 2,200 eligible students, faculty, and staff so far.
Texas Southern University
Texas southern university partnered with Baylor St. Luke to administer first and second doses on campus. Register here.
"Some of the pharmacy faculty are actually certified to give vaccinations and immunizations so we're making sure that everyone is on board and ready to go in case we have a large volume," said Rashid Mosavin, Dean of College of Pharmacy Health Sciences.
He said they've vaccinated thousands of people already since they opened Nabrit Hall for vaccinations in mid-February.
Adlem Anikputa just became eligible Monday and received a vaccine at TSU. He said he has a job in social work and worried about what could happen if he didn't get a vaccine soon.
"I just want to make sure that I actually have this so I don't have to be in the hospital. At least if I take the vaccine, there will be less chance of me going to the hospital," Anikputa said.
The Department of State Health Services said in a press conference Monday, the vaccine is becoming more widely accessible and there are fewer hospitalizations and deaths.
Source: www.click2houston.com