Mayor Sylvester Turner and Harris County Judge Lina Hidalgo declare public health emergency due to COVID-19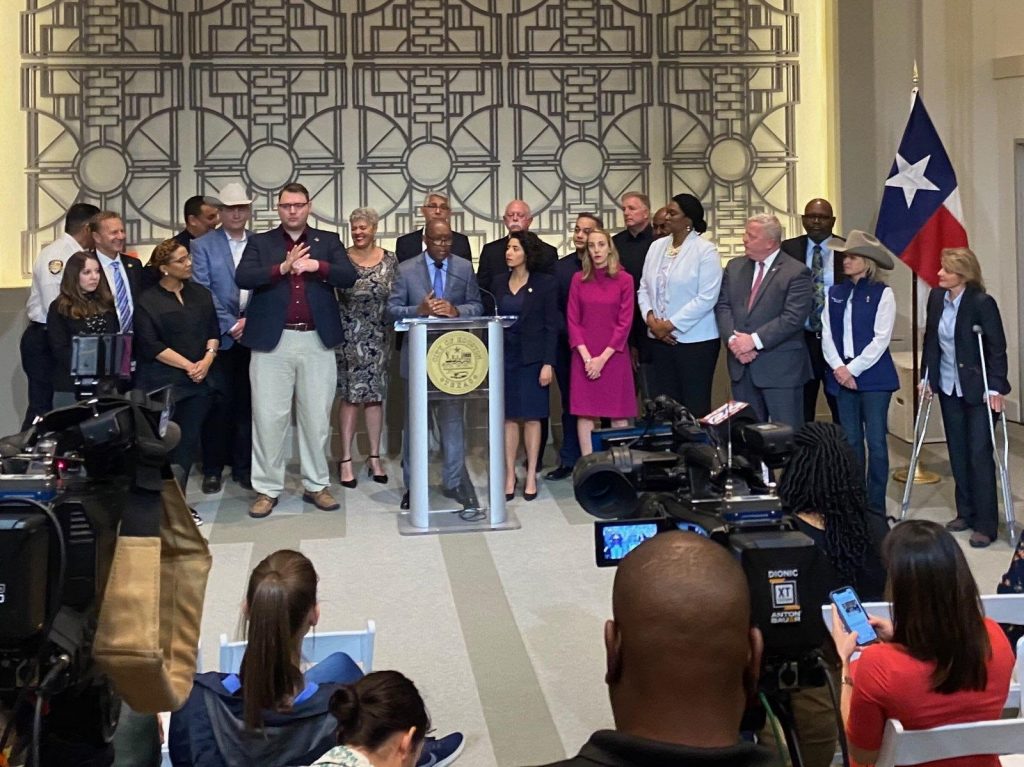 Mayor Sylvester Turner today signed a proclamation declaring a Local State of Disaster Due to a Public Health Emergency to help contain and mitigate COVID-19 from spreading. As a result of the emergency order, the Houston Livestock Show & Rodeo will close down immediately and city-sponsored, produced and permitted events will be postponed or cancelled through the end of March.

The action follows the identification of a positive COVID-19 case in a Montgomery County resident with no reported out-of-state travel and no identified contact with another person with COVID-19. It is an indication of community spread. Community spread occurs when a person contracts an illness from an unknown source.
Health officials believe the Montgomery County man who tested positive also attended the World's Championship Bar-B-Que Contest.

Mayor Turner and Houston-area health authorities determined immediate action was needed to protect the public's health. There are currently two positive cases of COVID-19 in the city of Houston.

"I have taken this step to contain and mitigate the virus. To this point, the cases in Houston, Harris County and Fort Bend County have all been linked to international travel," said Mayor Sylvester Turner. "As we have indicated since we first starting monitoring COVID-19, we would act quickly and accordingly based on new information. The information about the possibility of community spread in the Houston-area is a game-changer. We made a tough call, but it was the right call to protect the people of our city."

Harris County Judge Lina Hidalgo said she would also sign an emergency disaster declaration."This virus does not respect political or geographical boundaries," said Harris County Judge Lina Hidalgo. "Our response to this challenge requires that we use every tool in our toolbox to contain and mitigate the very real threat this global outbreak has on our health and our communities. I strongly urge residents, businesses, and schools to take this seriously and to take reasonable precautionary steps to protect our most vulnerable residents from exposure."For the health and safety of attendees, volunteers and employees, Rodeo Houston will phase down Wednesday evening. The three week event was scheduled to end March 22.

"As heartbreaking as this is, it is in the best interest of the community," said Joel Cowley, President and CEO of Houston Livestock Show and Rodeo. "Due to the foresight of our executive committee, we will be able to fulfill our annual contribution and commitment to youth and education."

The public health emergency declaration will also affect this weekend's Tour de Houston, as well as the remaining capital improvement project meetings.

"This virus is new to the human population and none of us have an immunity to it. We are doing this to save lives," said Dr. David Persse, Health Authority for Houston Health Department. "If you do not have symptoms, you do not need to be tested.If you don't have symptoms, the test does you no good and a test has been wasted. If you do have symptoms, please call ahead so medical staff can be prepared. We cannot afford to have doctors and nurses exposed."

Meanwhile, the Houston Health Department announced Wednesday new recommendations to Houstonians aimed at reducing their risk of exposure to COVID-19.People at higher risk of severe illness should stay home and away from large groups of people as much as possible, including public places with lots of people and large gatherings where there will be close contact with others. People at higher risk include:People 60 and olderPeople with underlying health conditions including heart disease, lung disease, or diabetesPeople who have weakened immune systemsPeople who are pregnantWorkplaces should enact measures that allow people who can work from home to do so. Taking these measures can help reduce the number of workers who come into contact with the COVID-19 virus and help minimize absenteeism due to illnessIf you can feasibly avoid bringing large groups of people together, consider postponing events and gatherings.The Houston Health Department is not currently recommending closing schools. If a case of COVID-19 is diagnosed at a school, the health department will work with the school and the district to determine the best measures including potential closure of the school.People who are sick need to stay home to prevent infecting others.Avoid visiting hospitals, long term care facilities, or nursing homes to the extent possible. If you need to go, limit your time there and keep six feet away from patients.People with symptoms like cough, fever, or other respiratory problems, must call a healthcare provider. People with symptoms should not go to the emergency room unless it's a life-threatening emergency.
Healthcare professionals will determine if you need to be tested for COVID-19.

Houstonians should visit HoustonEmergency.org for updated information about local risk, routine protective actions, frequently asked questions, communication resources, rumor control, emergency preparedness tips and more.