Maritza Antu – Presiding Judge of the 482nd Criminal District Court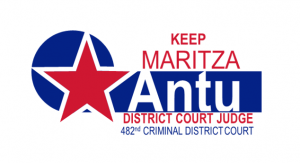 Maritza Antu is the presiding Judge of the 482nd Criminal District Court. She was appointed to be the first Judge of this court in October of last year. She is on the ballot this November.
Maritza is a proud bilingual Latina from McAllen, Texas where her family still lives. Maritza graduated from the University of Texas with a Bachelor of Science in Public Relations and attended law school at the University of Houston Law Center.
Maritza joined the Harris County District Attorney's office in 2005 and worked her way up the ranks in the office. Maritza was one of the highest-ranking Latinas at the District Attorney's Office. While there, Maritza tried over 75 cases to a jury and handled hundreds of additional criminal cases of all types, including violent offenses like capital murder, aggravated robbery, and sexual assault.
Some of the work Maritza is most proud of includes her handling of child sexual assault cases and working with young victims. While assigned to the Child Abuse Division for more than two years, Maritza secured over 20 convictions for defendants who preyed on the most vulnerable.
Maritza started her own law practice in 2017. As one of the few bilingual indigent defense attorneys in Harris County, Maritza worked with low-risk and non-violent offenders struggling with substance abuse and mental health issues. Her practice focused on reintegrating these individuals back into society with proper supervision.
Maritza has presided as Judge of the 482nd for eleven months. In that time, Maritza has worked hard to cut the backlog of cases transferred to her court by over fifty percent. Maritza has the lowest trial docket in the courthouse, one of the highest disposition rates, and one of the lowest jail populations of twenty-three district courts. Maritza is focused on clearing the backlog to provide swift and fair justice while keeping the public's safety in mind.