Maluma Wins the 2018 Latin Grammy for Contemporary Pop Vocal Album for F.A.M.E.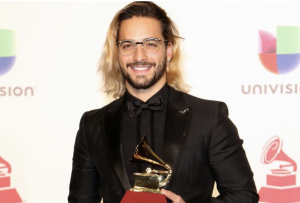 LAS VEGAS, Nevada (November 16, 2018). Global Latin music idol and box office phenomenon MALUMA won his first Latin GRAMMY last night for Best Contemporary Pop Vocal Álbum (for F.A.M.E.) at the 19th annual awards celebration which took place at the MGM Grand Garden Arena.
"This seems like a dream. The people who know me, know that I have worked really hard for this. Last year, I was one of the most nominated and I left empty-handed and tonight I have one nomination and I have the GRAMMY in my hand," Maluma emotionally shared. "Thank you . . . I want to dedicate this, especially, to my team who are here with me. My family, my parents who are watching me and couldn't be here. Mom, it was hard but we made it," he continued, dedicating the award to the kids in his foundation, El Arte de los Sueños. "Dreaming is worth it."This was twenty-four year old Maluma's tenth career Latin GRAMMY nomination.
F.A.M.E. debuted at #1 reaching 6X Platinum in the United States and 2X Platinum in México in its very first week out. Three of its songs have reached #1 on Billboard's Latin Airplay Chart. To date, Maluma has achieved eleven #1s on the chart.
About MALUMA:
At only twenty-four years of age, Maluma is widely considered one of the leading voices in Latin music and a bona fide global youth idol. Born Juan Luis Londoño in Medellin, Colombia, he formulated his artistic moniker Maluma from the first two letters of the names of his mother, father and sister.
Maluma is one of social media's most popular artists with over 23 million Facebook fans, 5.1 million Twitter followers, and a whopping 36.6 million Instagram followers (making him the leading Latin male artist on Instagram). His official YouTube/VEVO channel has garnered over 8 billion views and has more than 15 million subscribers, having earned him a YouTube Diamond Play Button Award. With his Maluma World Tour he has achieved unparalleled success, having sold over one million tickets in 105 worldwide concerts in 2017 alone and becoming the top concert-selling Latin artist in the world. In 2015 he released his latest album Pretty Boy Dirty Boy under the Sony Music US Latin label which debuted at #1. In his first year and a half in the U.S. market Maluma garnered five #1 songs on Billboard's Latin Airplay chart. His latest album F.A.M.E. also debuted at #1 reaching 6X Platinum in the United States and 2X Platinum in México in its very first week out. Maluma is the youngest artist to simultaneously hold both the #1 and #2 spots on Billboard's Latin Airplay chart (with "Sin Contrato" and "Chantaje") and only the sixth act to ever achieve the feat. To date Maluma has had ten #1 songs according to Billboard's Latin Airplay chart.
###

To connect with Maluma, visit: 
https://www.instagram.com/maluma/
https://www.facebook.com/MALUMAMUSIK
https://twitter.com/maluma
https://www.youtube.com/user/MalumaVEVO
Snapchat: malumaworld
http://www.malumamusik.com
Management:
WK Entertainment
1200 Brickell Avenue #1500
Miami, FL 33131
www.walterkolm.com
Media Contact: 
Jennifer J. Nieman
The Nieman Group
305.335.3054
jennifer@niemangroup.com